Shucked is a shucking perfect choice for the West End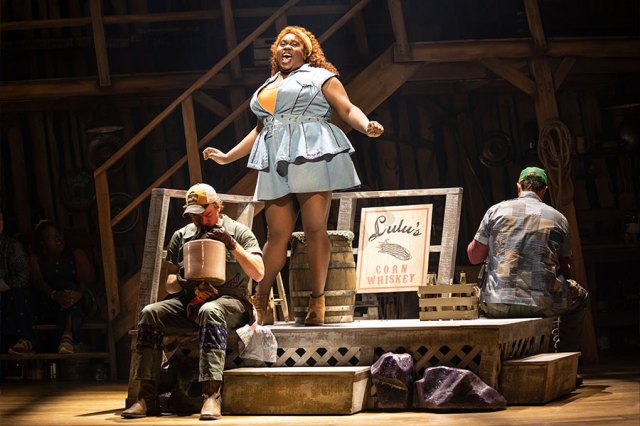 "It's a musical about corn" isn't the most enticing marketing hook for a new West End show ("It's the same going in coming out!"), but sometimes the biggest hits can come from the most unexpected places. Having witnessed its triumphant Broadway run, Shucked may well be the post-pandemic West End show the city didn't realise it needed.
Venue owner Cameron Mackintosh, who is set to host the show next year labelled it "a completely original musical and the funniest show since The Book of Mormon". That's a big claim – and, after Sunday's Tonys results, admittedly Shucked hasn't received the same critical/awards adulation as Mormon. But, as shows like Wicked have proven, a deluge of initial awards success isn't all that necessary when you have audiences on-side.
The story itself sounds like a thoroughly American plot line – but one with such specificity that it'll no doubt strike at a deeper universality. Set in an isolate Cobb County village where the corn is failing, one intrepid fiancée skips town on her betrothed in order to try and save the crop. While yes, deep cut jokes about Tampa may sail over UK audience heads, the show packs in more one-liners than a series of Mock the Week ("If I had a crystal ball… I'd probably walk different."). This is a story that could just have easily have taken place in Cornwall, or Coventry.
What also helps is Brandy Clark and Shane McNally's country and western score – catchy hooks and easy refrains that sound as though they've come straight from a Kacey Musgraves b-side. It all accumulates in a fantastically fun, self-referential mega-mix of reprieves during the climax of the show
On Broadway, Shucked boasts the powerhouse vocals of Glee Project alum Alex Newell – who picked up a Tony Award on Sunday night for their turn as tearaway supporting character Lulu. Speaking to Newell last week post-show, it seems they'd be more than game for a trip to London – appearing alongside what would no doubt be a UK-based company chomping at the bit to get to some of the one-liners in Robert Horn's book.
What Shucked may prove is that the West End has a penchant for unexpected stories turning into all-out crowdpleasers. Shows about stray cats, masked stalkers, rollerskating trains, failed French revolutionaries and Mormon missionaries have all proven to be blockbuster presences. A little show about failing crops might just add to the list.