Riotta and Doherty start in A Steady Rain at the Ustinov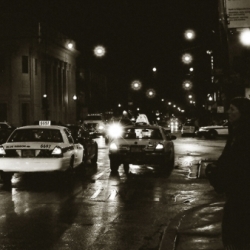 Vincent Riotta and Brian Doherty take on the roles of two cops in the second play of the Ustinov Studio's American Season 2014, Keith Huff's gritty drama, A Steady Rain.
A Steady Rain chronicles love and rage on the streets of Chicago where one ordinary day a deadly error of judgement sends the lives of two cops spinning out of control. Joe and Denny, best friends since childhood, are practically family. Joey helps out with Denny's wife and kids; Denny keeps Joe away from the bottle. But when a routine domestic disturbance turns into something terrifying and tragic, it is clear someone must bear responsibility. As the need to serve and protect both consumes the two cops and rips them apart, trust and loyalty struggle for survival against a backdrop of pimps, prostitutes and criminal lowlife.
A dark two-hander, filled with sharp story-telling and repartee, the play opened on Broadway in 2009 starring Hugh Jackman and Daniel Craig. This production, directed by David Grindley, is the UK premiere.
Riotta 's recent credits include Enduring Freedom at the Finborough Theatre, Fridays at Seven at the Court Theatre, Hollywood, and Shared Experience's True West and A Streetcar Named Desire at the Leicester Haymarket. Doherty, who plays Joey, was most recently seen in the West End in From Here to Eternity. Other recent credits include Narrative at the Royal Court, Famine at Hampstead Theatre, Improbable Frequency at the Gaiety Theatre and Antony and Cleopatra, A Winter's Tale, Julius Caesar, King Lear and Little Eagles, all for the RSC.
Director Grindley's numerous credits include, recently, Daytona, Journey's End in the West End, The Philanthropist on Broadway and the current Theatre Royal Bath Production of Pygmalion. He also directed the hugely-acclaimed production of The American Plan in the Ustinov Studio's American Season 2013.
Huff won a Writer's Guild Award for Mad Men, wrote for the first season of House of Cards starring Kevin Spacey, and has also written the film adaptation of A Steady Rain for Barbara Broccoli's EON Films.
The American Season 2014, which began with The Big Meal, concludes with Lynn Nottage's multi-award-winning Intimate Apparel, directed by the Ustinov Studio's artistic director Laurence Boswell (29 May – 28 June).
A Steady Rain is at the Ustinov Studio on from Wednesday 9 April to Saturday 10 May. Tickets are on sale now from the Theatre Royal Bath Box Office or online at www.theatreroyal.org.uk/ustinov
– Kris Hallett