Review: The Inheritance (Noël Coward Theatre)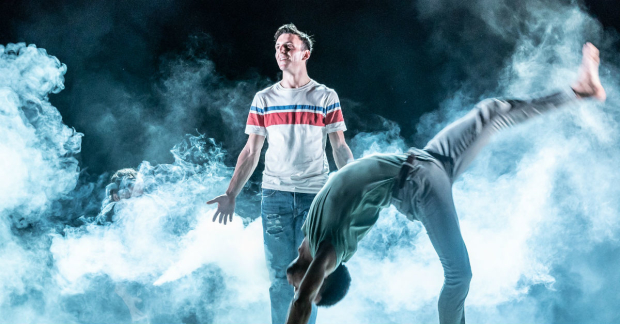 The talk of the town during its initial Young Vic run this summer, Matthew Lopez's two-part epic remains an essential, transformative theatrical experience in its West End transfer. It's as beautiful as it is harrowing, as searingly sad as it is rambunctiously funny, as intellectually rigorous as it is joyously accessible, and as thrillingly entertaining as it is deadly serious.
What starts as a modern day, gay-centric riff on EM Forster's novel Howard's End becomes a moving, gripping meditation on the power of storytelling, family ties, the basic human need for connection, and collective responsibility. It is, in every sense, a Big Experience but it's the vivid characters and their all-too-relatable issues that draw us in; it's as compulsive as a soap opera, or an unputdownable book. If the comedic elements feel broader here than they did in the smaller house, some subtle rewriting of the formerly less satisfying second part means that the pleasure and tension now never let up: you emerge from the theatre emotionally drained but exhilarated.
The blend of magic realism, political fury, camp popular culture references and an endearing but beleaguered gay man at the centre, means the Angels In America comparisons are inevitable. Both plays are clarion calls to challenge the American sociopolitical status quo, both distressingly evoke the panic and unease in New York City at the beginning of the AIDS crisis, and both end their first parts with breathtaking coups de théâtre that make you long for the next instalment. Lopez is more successful though at making the white-hot diatribes sound authentically like characters speaking rather than just being manipulated as political mouthpieces.
Lopez's sparkling, erudite text may owe its plot to Howard's End, its attitude and scope to Kushner's opus and its anger to Larry Kramer's seminal AIDS drama The Normal Heart, but its core is entirely its own. Stephen Daldry delivers an enthralling, clear, swift staging which reminds forcibly that he's a phenomenal director. You don't see simplicity and theatricality melded together like this very often.
The beating heart of the story is thirty-something New Yorker Eric Glass, an adorable gay Everyman whose natural instincts for kindness and compassion inevitably make his life harder than it needs to be. Kyle Soller is remarkable in the role, marrying kooky eccentricity with fierce intelligence and an honest-to-goodness niceness that never cloys. As the story deepens and darkens, Soller turns up the emotionalism to devastating effect, and if he isn't on every Best Actor award shortlist for this year there's no justice.
Equally terrific is Andrew Burnap as Eric's mismatched partner Toby Darling, a monstrously self-regarding but puppyishly charming writer, his finger constantly hovering over the self-destruct button. Burnap brilliantly evokes the terrified child beneath the urbane but dangerous exterior, and is often wincingly funny as an overgrown kid whose relationships with other men tend to be better in bed than out of it.
Samuel H Levine displays virtuosic versatility in the dual roles of the Manhattan rich kid who entrances the couple, and his doppelgänger, a desperate hustler whose craving for human warmth means he will take almost any kind of emotional or physical battering. Levine's astonishing ability to turn from arrogant, supercool Adam to pitiful, cowering Leo in a split second is the stuff theatregoers memories are made for: it's a star-making performance.
There is beautiful, haunting work from Paul Hilton as an older friend of Eric's, painfully recalling the bad old days of the initial AIDS cases, and also as an all-seeing, closeted E. M. Forster, simultaneously thrilled and discomfited by the sexual freedoms afforded to modern day gay men.
John Benjamin Hickey – utterly compelling – convincingly makes a case for rich gay men d'un certain age who voted Republican because they were so cut off from their feelings that they didn't even think about what they were actually supporting. The icing on an already rich cake is Vanessa Redgrave as an AIDS-generation mum who failed her son but is determined to make it up to humanity at large. She will break your heart.
This is that rare beast, a passionately audacious, entirely successful theatrical epic that fully realises its breathtaking ambitions, filtering huge themes through the individual stories of characters we come to care very deeply about. It is also cracking entertainment.
The title refers to many things: the handing down of property and belongings, family legacy, the passing on of illness, the continuation of guilt, the way childhood experiences can shape or break an entire life. Trust me, you don't want to be that person at the dinner table a decade from now, wishing you'd got tickets to The Inheritance while everybody else at the party still raves about it.
This is the sort of exciting, engrossing theatre that makes you wonder why people bother with Netflix. It may be long, but I didn't check my watch once.