Review: Looking at Lucian (Ustinov Studio, Theatre Royal Bath)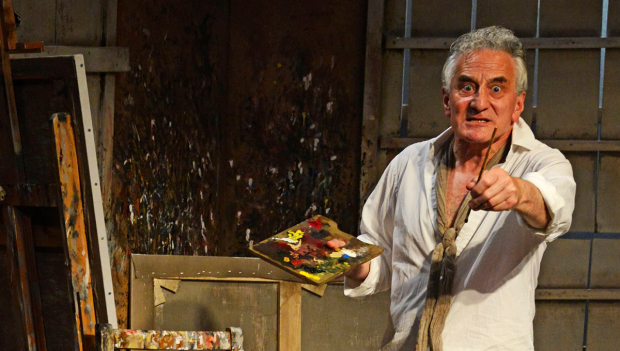 The artist Lucian Freud was known to be demanding of his sitters. Night after night, month after month with no deadline in front of them, he demanded his subject to be punctual and to hold positions ('if you can just move that knee'), often uncomfortably, for around five hours a time. Apart from the allure of being painted by arguably contemporary art's most famous purveyor, what kept the sitters in his ramshackle studio? Alan Franks's new work Looking at Lucian suggests that being dazzled by a gentile yet rambunctious raconteur may have also had something to do with it.
Franks – a feature writer for The Times for over 30 years – hasn't so much crafted a play as a highly entertaining extended feature piece. We see one half of a conversation between Lucian and his sitter as the artist looks back over a life well lived. Yet unlike a work such as Red, which delved deep into the psyche of Mark Rothko, this is a play that mostly gets by on surface celebrity name drops and, as Elbert Hubbard once said, "one damn thing after another". There is no doubt Lucian lived a fascinating life, painting everyone from the Queen to Jerry Hall and "Big Sue", the obese Benefits Supervisor – whose naked canvas of her sleeping eventually sold to Chelsea owner Roman Abramovich for £17.5 million, making him, at the time, the most expensive living artist in the world.
As a play, we never get to look under the skin of success. The artist mostly hides away behind the stories of his Grandfather Sigmund, Hitler, Mick Jagger and the Krays. However entertaining the stories and however glamorous the names, it is nothing that the audience can't discover for themselves in an afternoon Wikipedia scroll. It is only in the work's closing moments that we really get to see another side to the man beyond the myth – reflected in Freud's frustration over a leak to the press and his defensiveness over the rumours of the countless children he may have fathered outside of the documented 13. We catch a glimpse at a life that could have been if he had prioritised family over his art.
It is a three-star play graced with a five-star performance from Henry Goodman as the artist. Decked in white with shirt undone to the naval and a grey silk scarf draped over his neck, he is a rake still full of vitality even in later life. He has the voice down pat, an English gentleman tinged with a hint of early roots Germanic. Quick of mind and sharp of tone, his eyes twinkle – you can see the pull that took over 500 mistresses to his bed. He demands constantly – from himself and from those that model for him. The second rate is not an option, only the best will do.
Few actors command a stage the way Goodman does, like many from the top ilk he seems to be able to hold attention while doing very little. Every gesture magnifies, every pause mystifies, every raise of an eyebrow provokes analysis. Tom Attenborough's direction mostly stays out of his way and lets him get on with it, though a late decision to add an interval does sap the performance of some momentum. Surely any work that clocks in at under 90 minutes can afford to go without a break.
Freud, who died in 2011, would have likely been tickled pink by seeing another great artist give his own spin on a deeply personal self-portrait. If the play never goes much beyond the features Franks churned out for years, it grows resonantly richer in seeing one artist test his mettle with another.
Looking at Lucian runs at the Ustinov Studio until the 2 September.