Review: Company (Gielgud Theatre)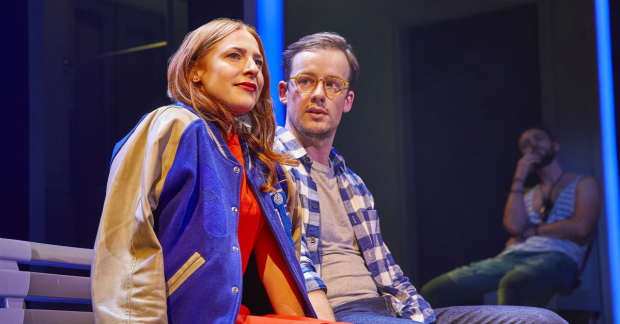 Apparently, Stephen Sondheim is rather pleased with this new production of his 1970 musical. He should be. Marianne Elliott's decision to turn the central character of singleton Bobby into a female Bobbie transforms and illuminates the entire show. It feels smart, fresh and relevant. It was always one of Sondheim's very best compositions, witty and passionate in equal measures. This approach makes it a revelation all over again.
What's wonderful about Elliott is her consistency and care. She has worked with Sondheim on the changes, and their attention to detail shows. Where Bobby was a slightly tiresome bachelor, surrounded by married friends who wanted to pair him off, Bobbie is a woman who is looking at a ticking biological clock but reluctant to give up her freedom. A musical about the danger of disengagement and loneliness becomes a show about a clever woman who has to weigh up what she gains and what she loses by her unmarried state. Something is really at stake.
This is made clearest in an inserted fantasy sequence where Rosalie Craig's Bobbie, about to clamber into bed with a handsome jock, is suddenly haunted by images of herself, in the same red dress, with the same flame hair, slipping into the bedroom like so many ghosts, carrying babies, exhausted, pregnant.
This bold stroke is characteristic of the entire production. The whole staging is a dazzling dip into stylised fantasy, where Bobbie's encounters with "these good and crazy people/my married friends" are not realistic meetings, but dazed adventures like Alice's, as she staggers in a dreamlike state through the looking glass.
The Alice in Wonderland reference is quite explicit in Bunny Christie's florescent-framed sets, a series of moveable trucks which pinion Craig inside her living room, grouped with her friends as she celebrates her 35th birthday – "How many times do you get to celebrate your 35th birthday? Eleven!" – and then traps her inside, until she finds the key to the door. Later, the balloons that mark her age become giant larvae, filling the space. Later still, she crawls through a tiny door, to drink a small bottle of bourbon, and blow out the candles on a miniature cake.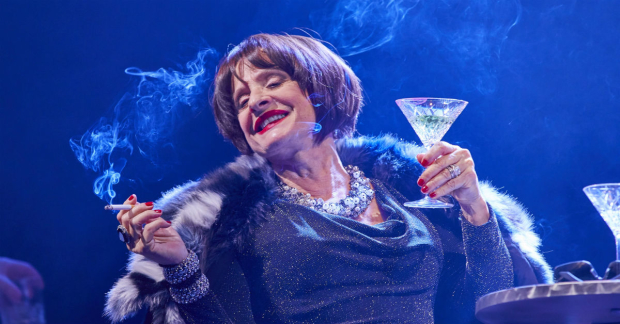 It's thrillingly inventive and Craig's open-faced immediacy, the warm way she negotiates the journey, her pure voice, and her little exclamations of "wow", when she discovers just how messed up people's relationships can be, make her a likeable companion. Male Bobbys can be a little chilly; not Craig. She's the kind of girl you'd like as a friend. She makes you understand both her isolation and her longing for "someone to hold me too close". The delicate balance the show reaches at the close is entirely convincing.
Around her there are some terrific performances. As Joanne, Patti LuPone gives a lesson in pure class, delivering each zinging line with exactly the right mixture of menace and aplomb. She is the repository for some of the wittiest lines in George Furth's sparkling book – "My first husband? He was difficult to remember even when you were with him" – and she makes them tell. Her rendition of "The Ladies Who Lunch", is so profound, you want to cheer even as you cry. The number is beautifully choreographed by Liam Steel, whose movement direction throughout (with the exception of an over-emphatic "Another Hundred People") is stylish and telling.
The other absolute standout is Jonathan Bailey's "I'm Not Getting Married Today" which is both desperate and funny, breathlessly brilliant in staging and delivery, with a singing minister bursting through the floor and out of the fridge, surrounded by pink light, her soaring soprano, and dour observations, underlining the rising tide of panic in Jamie's mind.
In the original, Jamie was Amy and this gender switch to a gay wedding is one that reinforces the sense of modernity that has always existed in Company's view of the world. Sondheim and Elliott have also swapped the dialogue given to David and Jenny, to make her a career woman and him a stay at home dad, which delicately allows Bobbie to discuss her future with a woman who knows the compromises she is facing. All the changes root the imagination of the staging in an emotional reality.
With the orchestra high above the stage, under the direction of Joel Fram, it sounds as good as it looks. I have barely space to mention the broad comic contribution of Mel Giedroyc as the permanently disappointed Sarah, or the cherubic sadness of Gavin Spokes as put-upon Harry. There is so much to admire and like in this richly inventive production that confirms Elliott as one of our best directors and Company as a great musical. No wonder Sondheim was happy.