Pygmalion at the Old Vic review – a production left with little to say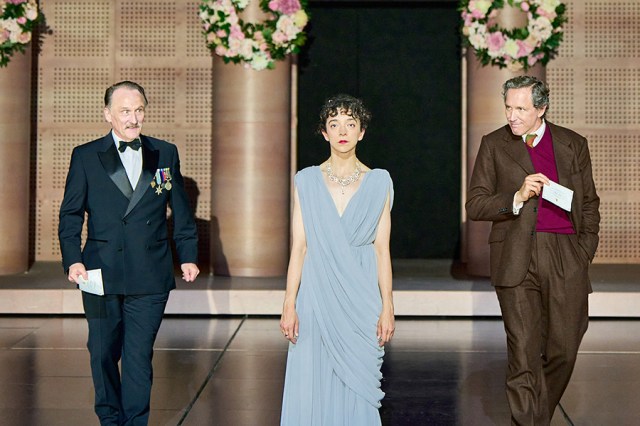 The problem for Pygmalion is My Fair Lady. The Lerner and Loewe musical sits on top of George Bernard Shaw's original play like a glamorous hat, lending its familiar lines a jaunty gloss.
And the problem with Richard Jones' production of Shaw's tale of Eliza Doolittle, the flower girl passed off as a duchess by phonetics expert Professor Henry Higgins, is that it seeks so hard to distance itself from the romantic musical interpretation it becomes brittle and heartless.
It is so worried about being different and modern that it sacrifices Shaw's meaning, and his deep-felt examination of the effects of accent on class and class on English society. It seems almost to dislike the play it is reviving.
This is a terrible shame because in Patsy Ferran and Bertie Carvel it stars two of the most interesting actors working today. Yet here the frenetic pace that Jones dictates means they become caricatures, with no breathing space to suggest depth or subtlety, relying on physical comedy and broad effects. Because they are such brilliant performers, they produce great moments of humour – but they are given no room to develop anything below the surface.
That surface deliberately, in Stewart Laing's set, resembles a sounding board, its pinkish walls pitted with holes, on which the entire cast run hither and thither driven by Will Stuart's relentless and intrusive piano score. The room where Higgins teaches is an actual laboratory; a spotlight frames him as he delivers a lecture on phonetics; he teaches Eliza by hitting mint-coloured boards covered in diagrams with a metal pointer that he wields like a general.
The costumes are a peculiar mixture of 1930s (when Shaw co-wrote a film version of his original 1913 play, incorporating many of its lines in a 1941 edition) and the present day. When Eliza first appears, Ferran loping around the stage like a latter-day Pippi Longstocking, she seems to be dressed in a modern parka. Higgins turns up to the Ambassador's Ball in the brown suit he has worn throughout. Clara Eynsford-Hill attends a tea party looking like a Hollywood star.
This lack of specificity is acutely damaging to a play that is based on its observations of the minute differences of class that distinguish the strata of society. Shaw's attack on a fake middle class morality which both Eliza and her father are attempting to negotiate is also lost in the general noise. The most interesting – and feminist – theme of the play, is how Eliza preserves her reputation and her independence while seeking to negotiate a world that classes women as street walkers or brides, yet despite dignified performances from both Penny Layden's Mrs Pearce (in a white lab coat) and particularly from Sylvestra Le Touzel, who brings a calm, wise reality to Mrs Higgins, the understanding of the tightrope Eliza is walking is also diminished.
These choices leave Ferran beached. She has an utterly transfixing moment when she arrives at Mrs Higgins' home to try out her new pronunciation, and with wide eyes and perfect timing manages to suggest the great sweetness and pride lying beneath her attempts to make small talk with her stories of an aunt dying of influenza.  And the little moue of pride and affection that passes across Carvel's face as he watches her is virtually the only moment when you feel a bond between them. The rest of the time, the decision to play Higgins as an effete, posturing, possibly neurodiverse, silly ass is acutely damaging to the relationship on which the play is based.
Higgins may be a bully, but he talks sense. If he is reduced to an egotistical monster who shouts all the time, he cannot either express his belief that art, culture and language are the "gulf that separates class from class, soul from soul" or properly give something for Eliza to strive against as she seeks her own Shavian self-fulfilment. She goes to him for speech lessons, remember. It is the most important act of the play.
Around them most of the rest of the cast are also reduced to caricature, though Michael Gould provides another haven of sense as a gentle Colonel Pickering, overexcited about his "living doll" but always respectful.
All in all, it's an incredibly frustrating evening, a wasted revival of a play that for all its old-fashioned notions, still speaks resonantly – and impeccably – to the modern age.