Protestors disrupt Les Misérables performance by 'locking themselves to West End stage'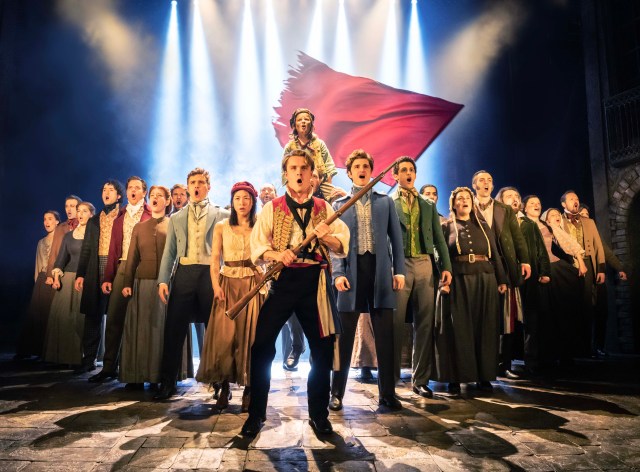 Just Stop Oil protestors entered the stage at Les Misérables this evening, disrupting the performance.
In a video released by the activist group, flag-waving individuals entered the stage area and halted the show, with technical staff ushering the cast off the Sondheim Theatre stage. One punter reached up and grabbed a flag from a protestor, with those climbing onto the stage using flexible bike locks to chain themselves to the set.
Just Stop Oil explained the motivations of those on stage: "Hanan, a student, took action because the UK Government, by approving new oil and gas has shown total disregard for their wellbeing… Noah, a theatre lover, took action because he knows there's no future for the arts if society fails under the pressures of climate collapse."
The safety curtain then came down – you can watch the video below.
A statement is expected from the production.
🚨 BREAKING: Just Stop Oil interrupt Les Mis.

🦺 4 people are locked to the stage of the French-revolution-themed show.

💬 "Valjean steals bread to feed a starving child. How long before we are all forced to steal?

🌡 The fossil fuel show can't go on: https://t.co/3tlBID7nKA pic.twitter.com/nCXsIGINoS

— Just Stop Oil (@JustStop_Oil) October 4, 2023
The event comes weeks after Sadler's Wells saw a performance disrupted in a similar fashion.