Podcast: Stephen Mangan, Matthew Macfadyen and Sean Foley at Jeeves & Wooster Q&A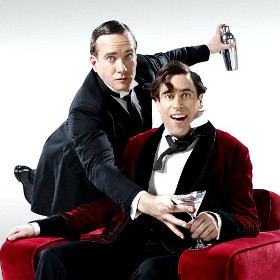 Last night we took over 100 theatregoers to see Sean Foley's production of Jeeves and Wooster in Perfect Nonsense at the Duke of York's Theatre.
Written by siblings Robert and David Goodale, Perfect Nonsense is adapted from PG Wodehouse's The Code of the Woosters (1938), the first installment in the Totleigh Towers saga.
The play stars Stephen Mangan as Bertie Wooster, Matthew Macfadyen as Jeeves and Mark Hadfield as Seppings.
Following the play we were joined for a post-show Q&A by director Sean Foley as well as Mangan and Macfadyen.
To listen to the Q&A, which was hosted by Terri Paddock, click the 'play' button below; or visit our Mixcloud page.
Come on our hosted WhatsOnStage Outing on 28 April and get a top-price ticket, free programme and access to our exclusive post-show Q&A with new cast members Robert Webb and Mark Heap all for £32.50