Oliver! at Leeds Playhouse – in rehearsals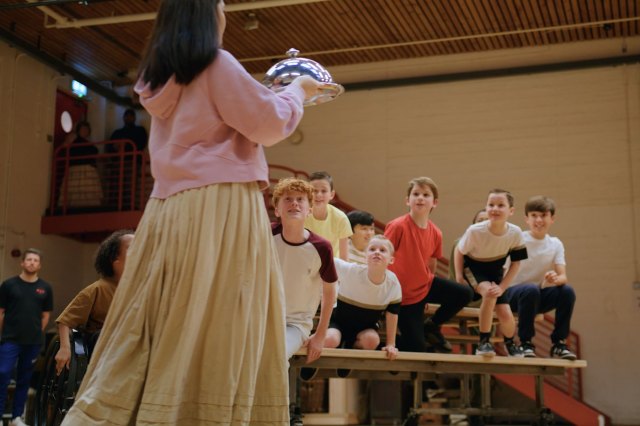 Take a look behind-the-scenes at the Leeds Playhouse revival of Oliver!
Adapted from Charles Dickens' novel, Oliver! follows the journey of a young orphan boy as he sets out on a dangerous journey from a workhouse to the bustling streets of Victorian London. Directed by Leeds Playhouse artistic director and chief executive James Brining, the musical features beloved numbers such as "Food, Glorious Food", "Oom Pah-Pah", "I'd Do Anything" and "Where is Love?".  The venue has also said the show will be staged 'in the round'.
Leading the show in the titular role are Carter-J Murphy, Nicholas Teixeira and Theo Wake, while the role of The Artful Dodger is shared by Felix Holt, Ram Narayanan Pisharody, and Noah Walton. Joining them on stage are Steve Furst (as Fagin), Jenny Fitzpatrick (as Nancy), Chris Bennett (as Bill Sikes), and Minal Patel (as Mr Bumble).
The adult company is completed by Zac Adlam, Laura Cairns, Rachel Clare Chan, Rosie Ede, Christopher Glover, Llandyll Gove, Simon Green, Frankie Hart, Danny Lane, Rachel Laurence, Jake Lomas, Martha Pothen, Michaela Stern, Harry Waller and Scott Waugh.
Completing the young company are Aness Ahmed, Beatrice Armitage, Cyrus Campbell, Ella Jade Chadwick, Zane Chaba, Ariana Dar, Rose Dawson, Rebecca English, Aaron Fu, Ana Sofia Gutierrez Robson, Fearne Lily I'Anson, Kalil Judge, Shayne M Maphosa, Leo Maurice, Oliver Maurice, Amelia Minto, Jenson Lee McMaster, Jett Moises, Karis Musongole, Kayleen Nguema, Chizaram Ochuba-Okafor, Maxwell Paton, Robyn Pennington, Alexa Raja, Reggie Rollins, Jessica Russell, Hugh Jack Ryan, Porscha Mai Staniford, Tommy Thompson, Maddison Thew, Raine Williamson and Buster Wolfenden.
The production's creative team includes set and costume designer Colin Richmond, Lucy Hind as choreographer, Toby Higgins as musical supervisor, Guy Hoare as lighting designer, Richard Brooker as sound designer, Luke Holman as musical director, Knoetics Music as orchestral manager, Eleanor Manners as associate director/voice coach, Jo Goodwin as associate choreographer/associate director for the young company, Keston and Keston for children's casting and general management, Annelie Powell as casting director, and Alice Walters as casting assistant.
You can also watch Fitzpatrick perform the classic "As Long As He Needs Me" below:
Oliver! will run from 27 November 2023 to 27 January 2024 in the iconic Quarry Theatre at Leeds Playhouse.