Notes from New York: We trade Lindsay Lohan for Helen Mirren and sing obscenities with Idina Menzel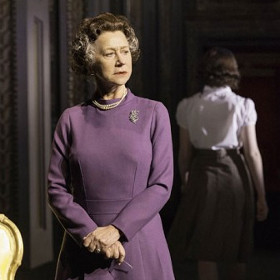 This past month, as New York has been gearing up for another theatrical season, the UK theatre community has been at the forefront of our thoughts. That's because from Broadway transfers to late-night TV, everything seems to be coming up British. The West End production of The Audience, starring Helen Mirren, recently announced plans to transfer to Broadway, and the Olivier Award-winning drama The Curious Incident of the Dog in the Night-Time begins previews next month.
Non-Broadway British theatrical imports have included a recent Globe Theatre production of Hamlet at the United Nations and rumours that James Corden will replace Craig Ferguson on CBS' The Late Late Show.
The sharing has gone the other direction too, with National Theatre Live filming the recent James Franco/Chris O'Dowd-led Broadway production of Of Mice and Men for international screening. In addition, the music of Broadway's If/Then, starring Idina Menzel, is also now widely available, in the form of vocal selections – so it's time to start belting "What the F*ck?" whenever you step into an un-air-conditioned theatre. Last month's most precious US export (no not Lindsay Lohan) was our own David Gordon, who visited London and wrote about the perils of love on London's West End (and didn't once mention the lack of air-conditioning).
Back in New York, Broadway bigwigs have been busily filling theaters, with upcoming productions such as the Broadway premiere of Lisa Kron and Jeanine Tesori's acclaimed musical Fun Home and a revival of the 1978 classic The Best Little Whorehouse in Texas. They've also found room for regional transfers of the Jeremy Jordan-led production of Finding Neverland from A.R.T. (see an interview with Jordan about the experience here) and The Kennedy Center's revival of Side Show. Exciting casting for previously announced shows includes Brian Dennehy and Mia Farrow, Carol Burnett and Brian Dennehy, Alan Alda and Candice Bergen, Stacy Keach and Diana Rigg, and Anjelica Huston and Martin Sheen in the rotating cast of A.R. Gurney's Love Letters. TheaterMania also recently had the chance to chat with James Earl Jones and Rose Byrne about Broadway's You Can't Take It With You.
Broadway's new shows aren't the only productions making news, however. The Book of Mormon's Andrew Rannells is stepping into Neil Patrick Harris' sparkly heels in Hedwig and the Angry Inch, and dayum if he isn't fine. Plus Keke Palmer and Sherri Shepherd have been cast in Cinderella on Broadway, and Rocky is closing despite star Andy Karl's all-in excitement. And though Shakespeare in the Park is now over for the summer, King Lear delighted locals and tourists alike.
For all the excitement of the last month, we also look back with sadness for all the theatrical greats that we lost. Following Robin Williams' untimely death, the theatre community came together with remembrances on Twitter and a heartfelt one-time communal singing of "Friend Like Me" at Broadway's Aladdin. We've also had to say goodbye to two of Broadway's most beloved dames: Elaine Stritch and Lauren Bacall, both of whom gave candid interviews to TheaterMania before their deaths. We feel fortunate to have had such greats on the Broadway stage, but – as we dim the marquee lights in their honour – we are sorry to say goodbye.