Norfolk and Norwich Festival announces full programme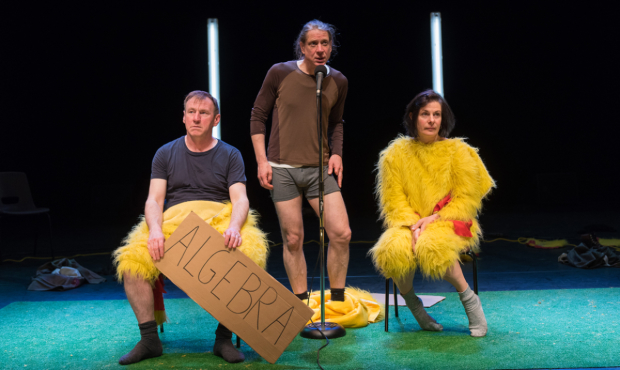 The full programme for this year's Norfolk & Norwich Festival – which runs from 11 to 27 May – has been announced by new festival director Daniel Brine.
Theatre highlights this year include the world premiere of Improbable's The Paper Man, inspired by the unexplained death of Austrian football star Matthias Sindelar in 1939, who humiliated the Nazi regime by refusing to throw a match. Frozen Light, who specialise in making theatre for audiences with Profound and Multiple Learning Disabilities, present a new multi-sensory story called The Isle of Brimsker.
Portuguese film and theatre director Marco Martins' Provisional Figures will take place in Great Yarmouth and tells of the 10,000 Portuguese immigrants arriving in the coastal town in the mid-2000s. It will be accompanied by a celebration of Portuguese culture, food and drink.
Other highlights include cabaret sensation Le Gateau Chocolat's Icons, the world premiere of Shift from circus company Barely Methodical Troupe, Forced Entertainment's acclaimed Real Magic. There will also be work from Rosy Carrick with Passionate Machine, Hannah Silva's Talk in a Bit, Jack Dean's protest show Nuketown, and Tim Clare and Mark Grist's Voted Out, which uses voting technology to give the audience the power of choice.
The dance programme will feature Hofesh Shechter's Grand Finale, Gandini Juggling's Sigma and inclusive dance companies Stopgap and Flex who bring two
free shows to outdoor spaces.
The music offering this year includes Ladysmith Black Mambazo, five-time Grammy Award winner Mary Chapin Carpenter, Mercury Music Prize and South
Bank Prize winner Talvin Singh, and Ben Folds.
On the announcement, Brine said: "The festival is a wonderful time to celebrate our city and county, to bring communities together to experience great art and performance, and to
welcome artists and visitors from across the UK and around the world.
"This year the festival has been put together by all of our team. My predecessor, William Galinsky, laid the foundations with major commissions and partnerships and the team, along with our principal programming partners Britten Sinfonia, Serious and Writers' Centre Norwich has given flesh and life to the programme. I've joined as we put the finishing touches in place and I have quickly immersed myself in the excitement and challenge of delivering one of the UK's most dynamic arts festivals."
The Norfolk & Norwich Festival runs at multiple venues from 11 to 27 May.