William Galinsky: 'You always have to have a back up plan'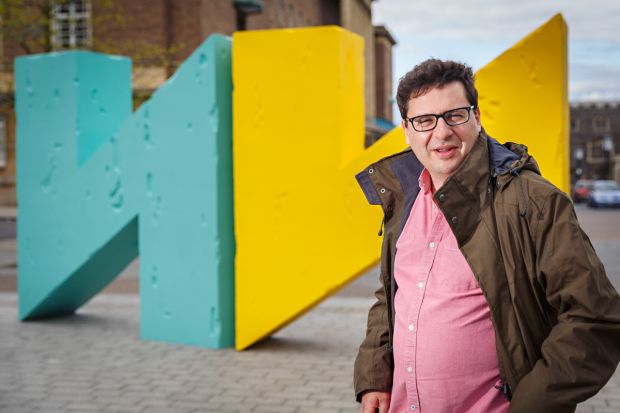 I didn't know Norwich very well when I first started as artistic director of the Norfolk and Norwich Festival in 2011, but it threw up all sorts of surprises. People won't know that it has two universities, a science research park where they invented super broccoli, a teaching hospital, a three screen arthouse cinema and a 12th century friary as our concert hall. Most people will know Norwich through Alan Partridge or Anglia Television or Sale of the Century! One of the shows we never made was about Sale of the Century. There is quite a long list of shows we never managed to make.
I learned from my time running Cork's Midsummer Festival that you have to have the long view. You don't rush a piece of work just to fill your programme, because it does you and the artist a disservice. The Arms of Sleep is one of the shows I am most proud of – that was in this year's festival – and it is the culmination of six years work with The Voice Project.
If I had killed a rare species of newt, I could have gone to prison
I'm not scared of anything, really. The crazier the better. The other day someone who I am commissioning for 2018 said that they had gone around to lots of people with the idea but I was the only person who had really jumped at it. We have an appetite for seeing the potential and not being scared of taking artistic risks.
Robert Wilson's Walking, in 2012, felt like a milestone for us. It was challenging in lots of different ways. We were working in a SSSI – a site of special scientific interest – and an area of outstanding natural beauty. Robert was great to work with but his organisation went through a lot of changes that year – his long standing stage manager of 25 years unexpectedly died. Natural England also suddenly said we had to test for saline in a hole we were digging into the ground as part of the show. It turns out that if the water being pumped from the hole had saline in it we couldn't have done the piece. If I had flooded a field and killed a rare species of newt, I could have gone to prison.
That year was also tricky because the Olympics were on and every single security company was working in Stratford. You develop a sixth sense for when to make sure there's a back-up plan.
The Nature Theater of Oklahoma's show Life and Times in 2013 was the piece that made our peers sit up and notice us. It was the first time we converted the Sportspark at UEA – which we also did with Black Watch. We have staged performances in all sorts of different spaces and places over the years. A 14th century merchant's house, a forest, opera in people's houses. That show combined counselling and opera – singers would choose an aria that they performed to you in your home and then explained why it related to your sorrow or your problem. It was a very beautiful project.
You develop a sixth sense for when to make sure there's a back-up plan
Building the team has been one of the most brilliant things. Norfolk and Norwich never got a producing playhouse in the way Colchester got the Mercury or Ipswich got the Wolsey. So initially there wasn't much capacity to build professional theatre productions.
We have a team that has been together for three to five years, there are a couple of people who predate me still with the organisation, who carry great wisdom. There are people who have been in our organisation for three or four festivals, with permanent jobs, who started as volunteers or student interns. It's so nice, it really feels like a family. And the saddest thing for me is feeling like I'm moving away from this great team. I want a new challenge, but that also comes with the notion that to some degree you have to start again.
I've had an absolute ball here. I've really enjoyed the canvas that Norfolk and Norwich has given me to play with.
---
By William Galinsky