Never Try This At Home makes world premiere in Birmingham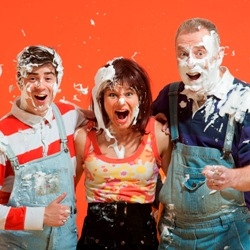 The dark side of Saturday morning television is to be unveiled as Birmingham Repertory Theatre and Told by an Idiot present the world premiere of Never Try This At Home. Inspired by legendary Saturday morning TV shows such as Tiswas and Going Live, the show opens from 27 February.
Never Try This At Home, written by Carol Grose, reunites the remaining survivors of infamous fictional TV show Shushi and throws the spotlight on its presenters, who are soon to realise the insidious side to fame. With a local house band and Shushi footage, Never Try This At Home exposes the violent and disturbing world of TV and celebrity.
Roxana Silbert, Artistic Director of The REP, explains how local director Paul Hunter was an ideal fit for the show: "Given he was born and bred in Birmingham it seemed natural to approach him about making a show for The REP. He recalled appearing on Tiswas when he was 8-years old, the anarchy of the programme and his experience of being put in a cage and pelted with ice and that seemed like a starting point for a show."
The cast includes Petra Massey alongside Niall Ashdown, Okorie Chuckwu, Stephen Harper, Dudley Rees and Ged Simmons. It is co-produced with Birmingham Repertory Theatre where it premieres, before touring to Sheffield and Edinburgh with its London run at Soho Theatre.
Never Try This At Home opens on March 3 (with previews from February 27) until March 15.