My Top 5 Showtunes: Matthew Floyd Jones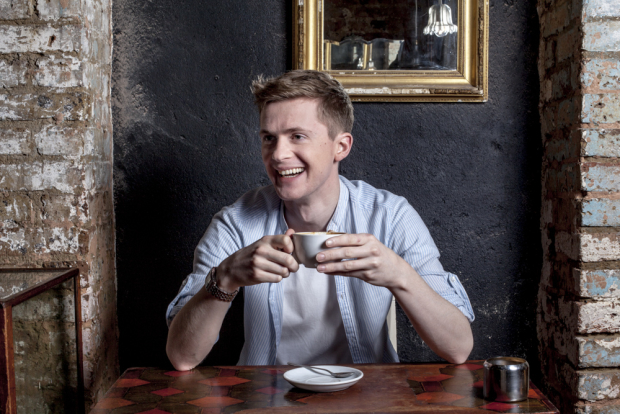 Matthew Floyd Jones is best known as the keyboard-playing half of musical comedy double act Frisky & Mannish.
His Edinburgh Fringe show A Super Happy Story (About Feeling Super Sad) received a five-star review from WhatsOnStage and runs at the Pleasance Courtyard until 28 August. His second show at the Fringe, Richard Carpenter is Close to You runs at Underbelly George Square until 27 August.
We caught up with Matthew and asked him: "If you were stranded on a desert island which five showtunes could you not live without?"
---
1. "Ya Got Trouble" from The Music Man
This is my favourite musical from one of my all-time heroes, Meredith Willson, with my favourite actor, Robert Preston, playing one of my all-time dream roles. I know every single word, pitch and breath of this by heart – it's my party piece. A perfect spoof of how easy it can be to exploit the fears of a massive unthinking crowd. Could it be more relevant still? And of course it gave us the indelible 'Monorail' spoof in The Simpsons.
2. "Another National Anthem" from Assassins
I find the concept of Assassins really upsetting – this strange group of misfits from different decades who felt so strongly that the man in charge needed removing by any means necessary. Whether they succeeded or not, they were jailed, ridiculed, executed, ignored. It's as bleak as a musical can get, really. But the songs are some of my favourites, especially this one, which almost convinces you that each of them has a pretty solid reason for doing what they did.
3. "At the Ballet" from A Chorus Line
This is a beautifully simple song, in which three of the auditioning dancers' stories overlap. It's really unpretentious and emotionally pure, and it's got the best climactic note ever heard on Broadway. The clip of the original cast singing on a talk show reunion years after the run is the best clip I've found. They're just standing there in their normal clothes, bright lights of the studio on them, singing the words, and it still packs a major punch. No set, costume or embroidery needed.
4. "My Junk" from Spring Awakening
Adolescence has never been so perfectly rendered. The dreamy summer guitar pop, the wistful frustration in the lyrics, the idea that nothing will ever be as simple or as hard as this time in your life… It's like The Wonder Years, My So-Called Life and Freaks and Greeks all rolled into one and handed a microphone to rock out with.
5."We've all stopped" from London Road
This one is not a "showtune" in the traditional sense, but I want it in because I find it so moving. This musical about the Ipswich serial murders is striking because it doesn't focus on the killer or the women he killed, but the effect on the local residents. I think that's what's so powerful about it – the absence of the victims' voices and identities. This song is the closest we get to them, sung by women who formerly worked alongside the victims as prostitutes.