My Top 5 Showtunes: Joe McElderry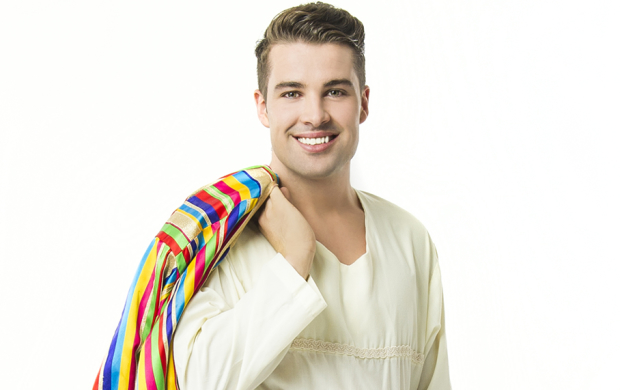 Joe McElderry found fame when he won the sixth series of The X Factor in 2009. His first single "The Climb" reached number one on the UK Singles Chart and he was also crowned the winner of Popstar to Operastar in 2011 and The Jump in 2014.
He is soon to star in the lead role of Joseph and the Amazing Technicolor Dreamcoat which embarks on a UK tour next week.
We caught up with Joe and asked him: "If you were stranded on a desert island which five showtunes could you not live without?"
---
1. "No Good Deed" from Wicked
I have seen the show numerous time and have fallen in love with this song. It is such an amazing vocal track and so difficult but every time I have heard it it's been amazing. I love the story of Wicked and all of the songs are amazing but this has to be a stand out. I have seen a few people perform this, Kerry Ellis and Rachel Tucker are my favourites.
2."Close Every Door" from Joseph and the Amazing Technicolor Dreamcoat
This is my favourite song from the show. It's such a strong and powerful moment and it's a beautiful song. I can't wait to perform this over the next few months as well as many of the other songs from the show.
3. "Pinball Wizard" from Tommy
I performed as Tommy at the Blackpool Winter Gardens and to see the audience reaction as this song started was amazing! It was such an amazing role to play. The story of this show is so sad so I think this song certainly gives a bit of light and shade. I honestly think the music is so different to any other musical out there which makes it so interesting.
4. "Circle of Life" from The Lion King
I also have very fond memories of this song growing up as a child and have a huge attachment to it. I was also lucky enough to perform it on X Factor during Movie and Musicals Week and have performed it quite a lot over the past few years. People love this song and they have such an emotional connection to it because the lyrics are so beautiful.
5. "Everything's Coming Up Roses" from Gypsy
I saw Imelda Staunton play this role and was fascinated, it was a masterclass in musical theatre, she was incredible. The way it was performed was just jaw-dropping, you could literally see the audience on the edges of the seat waiting to just stand up and go absolutely crazy. She actually got a standing ovation in the middle of the song which I have never seen happen in a theatre before. It was a spine-tingling moment.