Michael Coveney: Bob Hoskins remembered with fringe benefits, as I Can't Sing! flops and I battle the Bard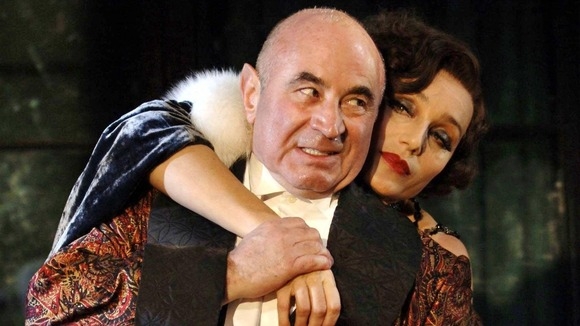 Bob Hoskins: from Ken Campbell to Hollywood
The ebullient, four-square Bob Hoskins, who died yesterday aged 71, and was nothing like a real actor, really, except for his real-ness, may have become best known in Hollywood as Michael Caine's Cockney chum and our own best shot at a new James Cagney, but his roots were firmly planted in British theatre.
The catalyst for his talent was Ken Campbell, who wrote a play for him at Peter Cheeseman's Victoria Theatre, Stoke-on-Trent, at the end of the 1960s; he was then a founder member of Campbell's legendary Road Show in which – alongside Campbell himself, Jane Wood and Dave Hill — he identified (wrongly) a rapist and beat him to death, pushed a wavering suicide off a cliff top (having filched his trousers) and powered a sado-masochistic sketch involving knicker elastic.
He became a totemic figure in the resurgent British television and cinema of the 1980s – Dennis Potter's Pennies From Heaven, Barrie Keefe's The Long Good Friday, Neil Jordan's Mona Lisa – before moving to Hollywood.
His stage work included a remarkable Bosola in a Royal Exchange, Manchester, Duchess of Malfi with Helen Mirren, and spells with the RSC and the National, where he was a superb, and sweaty, Nathan Detroit in Richard Eyre's 1982 revival of Guys and Dolls, the show which clinched Eyre's succession to Peter Hall on the South Bank. He was last in the West End in Jonathan Kent's revival of Pirandello's As You Desire Me, opposite Kristin Scott-Thomas, in 2005.
Back to the future with a fine fringe exhibition
Nothing at all, shame on them, about Hoskins, or indeed Ken Campbell, in Theobald's Road, High Holborn: but there's a couple more weeks left to hurry along to the Camden Studies and Archive Centre to catch a fascinating and unavoidably selective exhibition about the heyday of the fringe from 1968 to 1988. Actually, Re-Staging Revolutions makes a good point of highlighting Peter Oliver's Oval House blast starting in 1963 as a forcing arts centre feeding off Black Power, the art schools, gay squats and local poets; the Lord Chamberlain and censorship didn't disappear until 1968, by which time the flood gates were open.
It's immensely moving for those of us who lived through it to see the period evoked again, with pamphlets, programmes and posters, and instructive for younger theatre lovers and workers who really believe that it's all starting over. Maybe it is, and times are different. But is there anything on today's fringe comparable to Brighton Combination, 7:84, Red Ladder, Portable, Pip Simmons, Gay Sweatshop or even the feminist physical theatre outfit Cunning Stunts? Maybe yes, of course, but also maybe no.
They were of their time, those terrorist groups, with political necessity behind them, just as the break-through in black, gay and lesbian theatre (such quaint differentiating terminology!) simply had to happen. It's politics and the passion we don't have much of nowadays (Rattigan and Priestley at the Finborough; musicals and Ray Cooney at the Menier). We've moved into theoretical high-mindedness, imitation throw-back West End, sub-Pina choreography, wrap-around tolerance and fashionable sensitivity; and not much upsets the Daily Telegraph any more.
Popular theatre goes down the drain at the Palladium
We live in strange times, with an on-going cultural malfunction in the way the popular arts inter-react even with their own bêtes noires: the imminent demise of the musical I Can't Sing! at the Palladium (a title gloriously subverted by Cynthia Erivo in the title song) has attracted some critical clucking about people not wanting to see a facsimile of the X Factor TV show when, in fact, they didn't want to see a show which systematically and wittily exploded that amateurish behemoth (complete with, to his eternal credit, the post-ironic approval of the X Factor's mastermind, Simon Cowell) in a genuine vaudeville. They really wanted, probably, to see The X Factor in 3-D, not an inspired theatrical take-off. But the fact that it failed doesn't mean that the show was no good, any more than Charley Girl, The Mousetrap or We Will Rock You were validated because they ran for years on end.
Running to keep up with Henry IV and Hilary
Stratford-upon-Avon was en fête last weekend for Shakespeare's 450th birthday and the street procession was led for reasons that escaped almost everyone by an oversized, old-fashioned Lady Godiva puppet on a cart in a body stocking. Greg Doran's Henry IV Part Two was this year's "Shakespeare Performance."
I found myself sitting among various worthies and Hilary Mantel, obviously relishing the chance to compare Shakespeare's brilliant political writing – Antony Sher as a deliberately enunciated Falstaff and Jasper Britton as an emotionally tempestuous, dying guilty king; slightly anaemic pretty boy Prince Hal, though, from Alex Hassell – with that of her own in the triumphant Mike Poulton adaptations of her Thomas Cromwell sagas, Wolf Hall and Bring Up the Bodies, coming to the Aldwych from the Stratford Swan next month.
Sunday morning, up early – anon, anon, sir – to run in the Shakespeare half-marathon through fields and villages full of friendly extras, taking two minutes plus off my time last year, with a delicious local brew waiting for me in the Dirty Duck courtesy of mine host, manager Sam Jackson. Oh yes, we have heard the chimes at midnight, Master Shallow, but for a couple of hours we basked in the sunshine and smoked cigars on a mellow afternoon.