McDonagh returns in triumph with Hangmen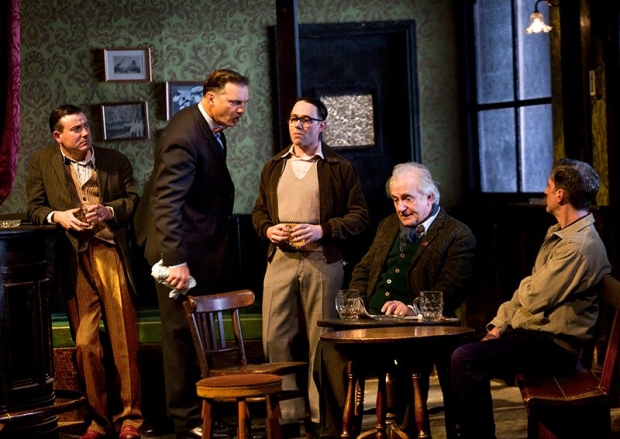 ★★★★★
"Martin McDonagh's brilliantly macabre and exhilaratingly un-PC new play"
"As with Pinter, whom he both resembles and spoofs, you don't see progress, or change, in McDonagh's style or obsessions… just a meticulous steadiness of purpose, an iron control of his resources"
" I sniff a big hit."
★★★★★
"McDonagh's play… adds up to a stinging indictment of capital punishment but never can the case against it have been mounted with such blissfully disreputable humour"
"The immaculate ingenuity and off-beam symmetry of the plotting is a thing of wonder."
"Reece Shearsmith is spot-on conveying the hapless, pervy resentment as the assistant"
★★★★
"a tar-black exploration of the men who made their living out of other men's (and women's) deaths"
"While McDonagh's play is a solidly constructed thing, drawing on real characters and events, it's often possible to glimpse the tendons under its skin, the mechanics of it."
"Anna Fleischle's multi-level set is also a rich thing: the eerie cream brick death cell of the opening scene rises up, slowly and dramatically, to reveal an immaculate recreation of a 1960s boozer"
★★★★★
"Hangmen, at a stroke, re-establishes [McDonagh] as the one to beat, and the Court the place to be."
"It's perhaps the most line-by-line funny play London has seen in years."
"If this doesn't get a West End transfer, it'll be a major miscarriage of commonsense."
Michael Billington, Guardian
★★★★
"Matthew Dunster's superb production matches McDonagh's mix of dark laughter and fearsome excitement"
"there are pitch-perfect performances from Johnny Flynn as the cocky intruder, David Morrissey as the arrogant ex-hangman, Reece Shearsmith as his creepy assistant and Bronwyn James as his shy daughter"
★★★★
"The play is a festival of slurs against anyone or anything. The year is 1965, and the pub's wallpaper is yellowed, the curtains are red brocade and the bar has Babycham."
"Can you laugh about capital punishment? If not, then don't bother buying a ticket."
Hangmen continues at the Royal Court until 10 October