Matt Trueman: Why theatre didn't tackle Brexit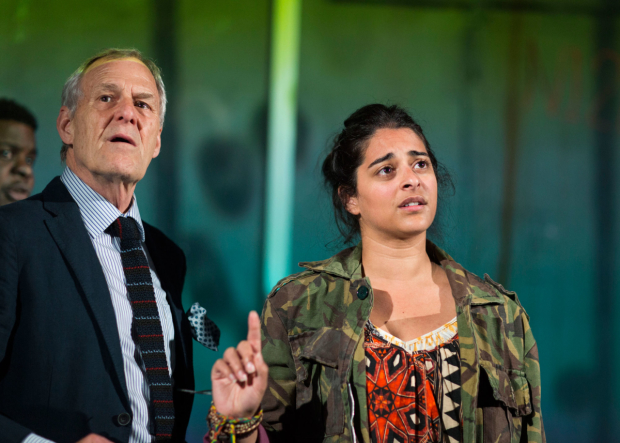 Where were all the plays about Brexit? So wondered Telegraph critic Dominic Cavendish's question the day after the EU referendum. "I must have missed that," he tweeted. "What a squandered opportunity by the theatre establishment to take a proactive role?"
This is, I think, to fundamentally misunderstand the function of theatre. A play is not a public information broadcast; still less a campaigning tool. For a play to have overturned the result, it would need to have converted around 700,000 Leave voters to the other side. Now I'm no Cameron Mackintosh, but I can't see a piece about the merits of EU membership becoming the next War Horse. Can you?
It's not just a matter of numbers. Theatre can only play to its immediate audience and, in a country split by regional attitudes, it surely ends up preaching to the converted. Putting the Remain case to Royal Court audiences, for example, would have had as much impact on the referendum as posting an anti-EU leaflet through Nigel Farage's letterbox. Besides, nobody really saw Brexit coming – not the government, not the civil service, not even, it seems, the Vote Leave campaign. Expecting playwrights to have done so is to cast them as Cassandras.
Theatre can't change the world – not in so straightforward and seismic a way – and we shouldn't expect it to win elections or reform the law. It's not that kind of medium, but rather one of reflection and refraction; a space for us to take pause, to see ourselves and our society afresh. It works through longshore drift, not handbrake turns.
Reflection, by nature, happens after the event. We talk about theatre as a present-tense art-form, but it rarely is, not really. Certainly, not when it comes to politics. When a play deals with a major political movement or an historical moment, it tends to do so retrospectively. This House, for example, laid bare the nature of coalition governments two years after the Cameron-Clegg press conference in the garden. Even David Hare's treatise plays come after the event. Stuff Happens opened 18 months after we waded into Iraq; The Power of Yes, a year after the collapse of Lehman Brothers. Expect any such Brexit play to take as long as any Article 50 negotiations. Commissioning, programming, research and writing all take time.
The alternative is rapid response theatre – quickfire commissions that take the temperature of the times. It's not a model I've much time for, if I'm honest: theatre that trades insight and quality for topicality and timeliness. Too often, the results are half-baked half-plays playing in half-full rooms.
Besides, theatre's often at its worst when it approaches a subject head on. It becomes flat-footed and factual, often lacking in metaphor; closer to journalism than theatre. Far better, I'd argue, to think around a subject.
On those terms, it's not like theatre's had its head in the sand. We might not have seen Brexit: the Musical – and nor would we want to – but playwrights have explored the social and political factors that fed into the result. Cavendish singled Vicky Featherstone out, as if the Royal Court had neglected its duties, but her tenure has included Zinnie Harris' How To Your Breath about a fracturing, freefalling Europe and, last month, Stef Smith's glimpse into the refugee crisis and rising nationalism Human Animals. Go back to Open Court, and there was a week of shorts about the worst-hit European economies, PIIGS. Plays like Yen, Boy and Beyond Caring, not to mention revivals of Simon Stephens' Port and Herons, have shown us those hit hardest by austerity, while others have looked at the nature of populist politics. You see it in classics too: all those Enemy of the People revivals, all those history cycles and despotic Richard IIIs.
Coincidentally, I spent last week at the BE Festival – short for Birmingham European festival. Hosted at Birmingham Rep, it presents an eclectic programme of companies from across Europe, four shows a night, with a communal dinner break half way through. Directors Isla Aguilar and Miguel Oyarzun, who split their time between Spain and the UK, see the whole festival as driven by the idea of crossing borders – be they national, cultural, linguistic, artistic. It was, as a result, a strange place to be last week: solemn sometimes, but cathartic too – a reminder that Europeans have more in common than we do differences.
On Friday night, the BE Mix rep company – an ensemble put together from different BE companies, of different nationalities – presented a piece they'd made in 10 days. It was a consideration of democracy – a bit gnatty as theatre, but rather affecting as a thing in itself, a gesture of international collaboration.
Increasingly, I think this might be theatre's role – not as a platform for imparting information, but as a tool for shaping society. Theatre can play an active role in this country's political life, but not simply by laying out arguments and unpicking debates. Instead, it needs to get out into communities and get people involved, to counter the disaffection that motored the Leave vote. Rather than putting a case for alternatives, why can't theatre be the alternative?