Mates in Chelsea at the Royal Court Theatre – review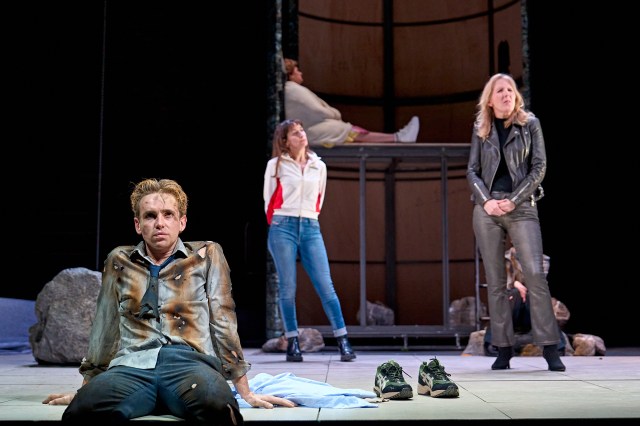 Rory Mullarkey's new comedy Mates in Chelsea mostly takes place outside of the Royal Court's borough of Kensington and Chelsea, in the north of England, where the eminently useless Theodore 'Tug' Bungay, a 30-year-old viscount who's never had a job in his life, devises a scheme to prevent the sale of his ancestral castle to a mysterious rich Russian. After that, it takes place in the ruins of that dream.
This makes it sound darker and odder than the play proves itself to be: though there's fun to be had in Sam Pritchard's campy production and Mullarkey's loving mischief with Russian dramatists and stereotypes (as a successful translator of Russian work himself), Mates in Chelsea is ungainly and mostly played straight, never quite taking off from that path. It's unashamedly silly and doesn't come to more than that, though it seems as if it wants to. What won't the rich trample to protect themselves? But don't we know the answer to that from the starting pistol?
The cast are wickedly good, though Philipp Mogilnitskiy doesn't get much of a look in as the real Russian who must, of course, show up. Fenella Woolgar is terribly crisp as Lady Agrippina Bungay, Tug's scornful mother, on the brink of running off with her ever-so-French account manager (Karina Fernandez). Natalie Dew has great fun as Finty Crossbell, Tug's put-upon fiancé of many years, gets in on the Russian oligarch disguise action with a sleazy charm. Amy Booth-Steel has great comedic timing and withering power as Mrs Hanratty, Tug's one (hired) constant in his life, though the vagueness and familiarity of the characters underserve her most. She's the only "non-posho" in attendance, and also a Marxist who despises Tug and worships the Soviet Union, with several tricks up her sleeve. But the plot is so desultory that her fate, along with the others, doesn't matter much to us.
Laurie Kynaston plays Tug like a slouchy, dandy rabbit, with beautifully clear voice and gestures and shades of Rupert Everett, a hopeless case. George Fouracres, as Tug's colonial-chic, Lawrence of Arabia-styled friend Charlton Thrupp is a revelation, with the sly intonation of a wobbly dame and irrepressibly wide eyes. It's a star-making comedic performance, with hints of everything else of which he's capable.
Milla Clarke's big, playful design reminds me of Chloe Lamford's for Is God Is, written by Aleshea Harris and previously staged here at the Royal Court. She turns the space around and then inside out, hanging a wacky sign to welcome us to the castle set of Dimley Grange: what happens in the places she takes us isn't necessarily equal to them.
Now if only Mates in Chelsea were slightly more outrageous: it's as if it needs a sprinkling of good communist flavour enhancer. It's not as nimble or fruity as a Wilde or Wodehouse, and the jokes don't come as thick or as funny, nor does it move at the clap it should, particularly in the second half. There's the sense of waiting for the other shoe to drop. The points at which it goes weirder and wider, threatening to tip into something else entirely, are welcome, but it only ever threatens, remaining otherwise pretty flappy. Tug's eventual punishment for his unending self-interest and dissolution doesn't feel firm enough to pay out with a sense of satisfaction, barely set up to begin with and his relationships are not really compelling.
It's a decidedly mild time, though it passes pleasantly enough in the assured company of this cast. There are cracks against the class system, entrenched British inequality and abuses of power by the rich and aristocratic, but Mates in Chelsea is too disparate in focus to be a straight parody, nor does it have real bite as a comedy of manners. It does demonstrate well how disposed we are to laugh at large Russian accents.