Machinal at the Almeida: first look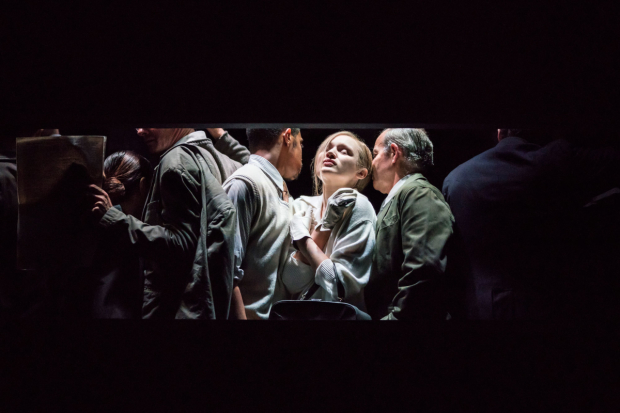 Images have been released of the revival of Sophie Treadwell's play Machinal, which opens at the Almeida next week.
Directed by Natalie Abrahami, the production stars Emily Berrington as Young Woman, Denise Black as Mother, Jonathan Livingstone as George H Jones and Dwane Walcott as Dick Roe. The rest of the cast, who all play various roles, are Nathalie Armin, Khali Best, Demetri Goritsas, Andrew Lewis, John Mackay, Alan Morrissey, Kirsty Rider and Augustina Seymour.
The play is inspired by the real-life case of Ruth Snyder who was executed by electric chair for the murder of her husband. Treadwell was an American playwright and journalist and wrote Machinal in 1928. It follows a young woman who works as a stenographer and lives with her mother and is driven to murder her husband after she has an affair. Treadwell died in 1970 and was the author of 29 plays including Gringo, O Nightingale and Ladies Leave.
The production has design by Miriam Buether, costume by Alex Lowde, choreography by Arthur Pita, lighting by Jack Knowles, sound and composition by Ben and Max Ringham, video by Robin Fisher and casting by Julia Horan.