Lost Boy Racer to get world premiere in Huddersfield
Yorkshire arts organisations are finding plenty of ways to celebrate the coming of the Tour de France to the county, from Burton Agnes Jazz and Blues Festival staging Le Mini Depart of kids' cycle events to Leeds' Howard Assembly Room cheekily showing Vittorio de Sica's neorealist classic Bicycle Thieves.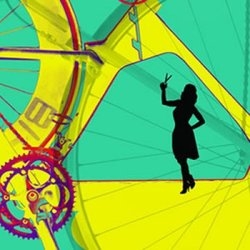 However, few can be as apposite as the world premiere of Lost Boy Racer at Huddersfield's Lawrence Batley Theatre. Part of the Yorkshire Festival 2014 which runs through to the second day of the Tour in Yorkshire (6 July), Lost Boy Racer ticks all the boxes. Its short tour takes in the build-up to Le Grand Depart and runs until two days after the Tour heads South; two of the towns where it is playing (Huddersfield and Harrogate) are on the Tour's route; and the play's subject could not be more appropriate.
Written by local writer Julie Amanda Bokowiec, Lost Boy Racer follows the story of Sean Racer who used to be an energetic youth hooked on cycling and is now an overweight 40-something tax inspector on the brink of a personal crisis. Sean hatches a plan to fulfil a boyhood dream – to ride the Tour de France – or at least go the full distance on a bike on rollers in his shed!
Lost Boy Racer is described as "a quirky northern comedy-drama with a touch of blood, sweat and tears, a large dose of fun, some off-the-wall bike action and a love story of sorts." The expectation of something out of the ordinary is created by the prospect of a remarkable set from award-winning metal sculptor Tim Tolkien and the casting of physical theatre artist, rock climber and innovative dance specialist Sean King as Lost Boy.
Liz Postlethwaite directs, with Thomas Aldersley (Mikos in the television series Atlantis) as Sean Racer. The cast also includes Robin Simpson (last seen at the Lawrence Batley Theatre in The Hound of the Baskervilles), Sarah Groarke and Michaela Longden.
Lost Boy Racer premieres at the Lawrence Batley Theatre, Huddersfield, from 25-27 June, before moving on to The Lowry, Salford Quays (28-29 June). From 2-4 July it plays Harrogate Theatre, leaving town the day before the peloton thunders in, and then moves to the Theatre Royal, Wakefield (7-8 July) in the immediate aftermath of the Tour's departure.
Consult www.juliebokowiec.com/lost-boy-racer.html for information in English and French.