Looking forward: Michael Coveney previews the coming year in theatre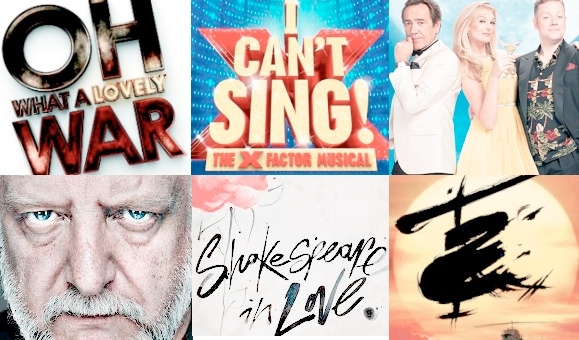 Something even bigger than the National Theatre has a major anniversary next year: the First World War, and we'll be up to our necks in muck and bullets all over again, 100 years on, especially at the Theatre Royal, Stratford East, where Oh! What a Lovely War, first produced on that same stage by Joan Littlewood, celebrates its own 50th anniversary.
The director is Terry Johnson, and the cast is led by Caroline Quentin and Michael Simkins; opening night in February is a red letter date in my diary. Other special nights on the horizon are Simon Russell Beale as King Lear at the National, directed by Sam Mendes; the 25th anniversary revival (with the same poster, but not the helicopter, apparently) of Miss Saigon at the Prince Edward; and Angela Lansbury as Madame Arcati in Noël Coward's Blithe Spirit, alongside Janie Dee and Charles Edwards, at the Gielgud.
Lansbury, who's just been made a Dame in the New Year's honours, is directed by Michael Blakemore, as she was on Broadway in the same play; a native Londoner who's spent much of life in Ireland, and the granddaughter of a Labour Party hero, George Lansbury, it's her first appearance here – amazingly, she's 88 – since her unexpectedly knock-out performance in the London premiere of Gypsy at the Piccadilly 40 years ago.
There's a transatlantic flavour, too, about three other big shows. First, Jamie Lloyd directs the Broadway hit Urinetown, a marginally obscene satirical dystopia at the St James for a limited season, with the RSC's last Hamlet, brilliant Jonathan Slinger, head-lining alongside Jenna Russell and Richard Fleeshman.
Then comes Trevor Nunn's staging of the Hollywood thriller Fatal Attraction at the Haymarket, and a reworking of the 2005 Broadway musical Dirty Rotten Scoundrels starring Robert Lindsay, Rufus Hound and Katherine Kingsley, directed by Jerry Mitchell who choreographed the New York original, which featured the sublime pairing (I saw them) of John Lithgow and Norbert Leo Butz.
For "brand new" musical theatre we may have a big surprise – who knows?! – with I Can't Sing! The X Factor Musical by Harry Hill and Steve Brown at the Palladium. The time is probably right for a no-holds-barred send-up of the television talent show, and Nigel Harman is certainly glossy enough to play Simon Cowell. We are promised nineteen new songs, a singing hunchback, a talking dog and a man in an iron lung.
There's an abundance of promising new plays all over the place, no less than four of them – by Howard Brenton, David Eldridge, Simon Armitage and Richard Bean – at Shakespeare's Globe, where Dominic Dromgoole also offers Antony and Cleopatra and Julius Caesar, and Gemma Arterton christens his new candle-lit indoor space, the Sam Wanamaker Playhouse, as the Duchess of Malfi.
The Royal Court, after launching a world tour of Lisa Dwan in a Beckett triple bill (Not I, Footfalls and Rockaby) directed by the great German veteran Walter Asmus, has a new Simon Stephens, Birdland, with Andrew Scott playing a rock star on the skids, and Abi Morgan's intriguing-sounding The Mistress Contract, based on a series of letters between a pair of ageing lovers, while the Donmar stays loyal to former Royal Courtier Peter Gill and his historical docudrama Versailles (with a hand-picked cast led by Francesca Annis) and nabs the new James Graham, Privacy, a possibly well-timed look at the social media in the digital age.
But, as usual, it's the Young Vic that really sets the pace, upping the stakes in the theatre of intellectual glamour and internationalism. Juliet Stevenson gets buried in sand in Beckett's Happy Days, then brilliant Dutch director Ivo van Hove (his Toneelgroep Amsterdam have three times visited the Barbican with The Roman Tragedies, a tribute to Antonioni and last year's amazing Scenes from a Marriage) stages Arthur Miller's A View From the Bridge. The Young Vic's Three Sisters director, Aussie Benedict Andrews, returns to direct Gillian Anderson as Blanche du Bois in A Streetcar Named Desire, Peter Brook directs Kathryn Hunter in The Valley of Astonishment, a play about Islamic mysticism and neurology, and Katie Mitchell takes on The Cherry Orchard.
And you might want to mark your card for two out-of-town but easily accessible regional theatres that are gathering momentum. Sam Hodges is re-branding the Nuffield on the campus of Southampton University and programming an ambitious season including Blanche McIntyre directing Noël Coward's series of short vaudeville plays, Tonight at 8.30, and James Dacre at the Royal and Derngate, Northampton, has a new version of Charles Dickens' A Tale of Two Cities by Mike Poulton and an adaptation of Pat Barker's Regeneration, an acclaimed First World War novel, by Nicholas Wright.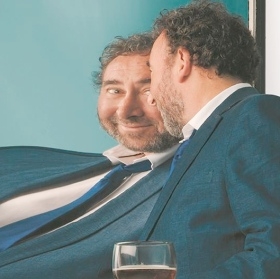 Poulton is deep into rehearsals for the RSC's double adaptation of Hilary Mantel's Tudor novels, Wolf Hall and Bring Up the Bodies, which Jeremy Herrin, who has succeeded Rupert Goold at Headlong, directs in the New Year. The chief character, Thomas Cromwell, is played by Ben Miles, who will have to compete, poor chap, with assessments of Mark Rylance's performance in the same role on television. Gregory Doran then picks up the Shakespeare baton at Stratford-upon-Avon with Henry IV Parts One and Two, my favourite plays, with Antony Sher as Falstaff, Jasper Britton as the dying King Henry and newcomer Alex Hassell as Prince Hal.
Sean Foley has been one of the busiest directors of late, and he takes on a huge environmental production of Jules Verne's great travelogue Around the World in Eighty Days, slated for a pavilion near the O2 Centre; we are told to expect a multi-media marvel featuring a 360 degree dome the size of ten IMAX screens, a hot air balloon and a twenty-foot high steam-powered elephant. Well, it can't be any worse than the recent re-make of the great movie.
I'm also looking forward to seeing Lesley Sharp back at the National in A Taste of Honey, Emilia Fox in Rapture, Blister, Burn by Gina Gionfriddo (whose Becky Sharp at the Almeida a few seasons back was seriously underrated) at Hampstead Theatre, and Fiona Shaw in Cólm Toibín's Testament of Mary at the Barbican, a show which flopped on Broadway probably because it was too good, too strange, too mystical or too non-satirical; Toibin's novella about Jesus's mother is a masterpiece.
Timothy Sheader continues his so far reasonably successful campaign to subvert the reputation of the Open Air Theatre in Regent's Park as a solely Shakespearean destination, presenting two repertory classics in Arthur Miller's All My Sons and Harold Brighouse's Hobson's Choice before the summer musical, Porgy and Bess. And the other summer treat might turn out to be Lee Hall's adaptation of yet another movie, Shakespeare in Love, directed by Declan Donnellan at the Noël Coward – currently home, of course, to one of the past year's standouts in the shape of the Michael Grandage season.