London cast for The SpongeBob Musical announced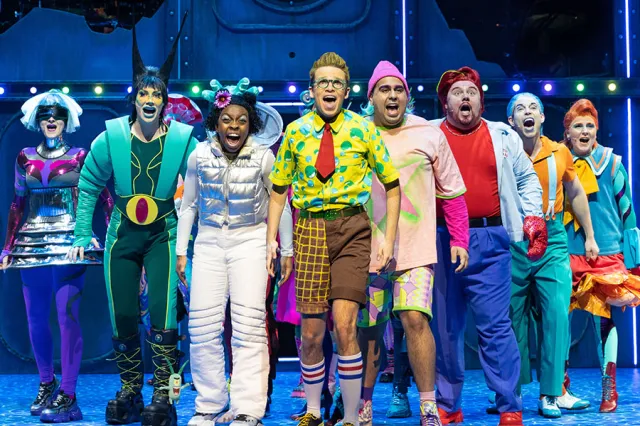 Casting for The SpongeBob Musical's London run at the Southbank Centre has been revealed.
Set to appear in the piece will be Lewis Cornay (he/him) as SpongeBob, Irfan Damani (he/him) as Patrick, Chrissie Bhima (she/her) as Sandy, Richard J Hunt (he/him) as Mr Krabs, Sarah Freer (she/her) as Pearl, Eloise Davies (she/her) as Mrs Puff, Hannah Lowther (she/her) as Karen and Rebecca Lisewski (she/her) as Mayor.
They are joined by Sam Beveridge (he/him), Farirayi Garaba (she/her), Jeremiah Olaleye (he/him), Eleanor Turiansky (she/her), Rhys Batten (he/him) and Reece Kerridge (he/him) and Theo Reece (he/him). They are joined by the band Beveridge, Olaleye and Turiansky.
Divina de Campo (they/she/he) will take on the role of Plankton with Gareth Gates (he/him) and Tom Read Wilson (he/him) alternating the role of Squidward. It is set to play from 26 July to 26 August. Read Wilson will perform on 3, 5, 6, 12, 13, 18, 19 and 20 August, while Gates will appear from 26 to 30 July, and 23 to 27 August.
The piece received a glowing review from WhatsOnStage, being described as "lavish, multi-coloured and somewhat zany".
Based on the hit cartoon, it is written by Kyle Jarrow and conceived by Tina Landau, with additional lyrics by Jonathan Coulton and additional music by Tom Kitt. Featuring SpongeBob, Patrick, Squidward, Eugene and Gary the Snail, the musical has original tunes by the likes of Cyndi Lauper, John Legend, Panic! At the Disco, Sara Bareilles, Steven Tyler and Joe Perry of Aerosmith, Plain White T's and more.
The UK premiere production is directed by Tara Overfield Wilkinson and features choreography by Fabian Aloise, designs by Steve Howell, musical supervision by Mark Crossland, musical direction by Marcus Carter-Adams, costumes by Sarah Mercade, lighting and video design by Ben Bull, sound by Ben Harrison, costume and wig supervision by Megan Rarity, associate choreography by Paris Green, and casting direction by Harry Blumenau.