Lizzie the Musical at Southwark Playhouse Elephant – review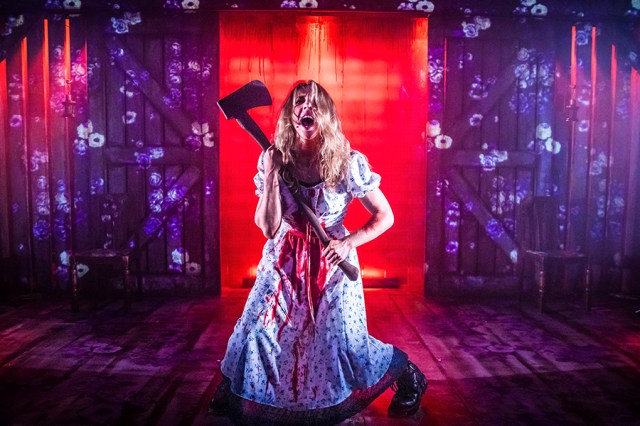 Although it may feel like a derivative attempt to ride the wave of Six's popularity (the cast includes three former queens), this punk rock musical about infamous 19th century American axe-murderer Lizzie Borden was first seen stateside back in 2009.
It was certainly ahead of its time in terms of style, and William Whelton's sparky revival emphasises its highly contemporary gig-musical feel in a production that oozes sass. The major drawback, it must be faced, is the story, but we'll come to that in a moment.
The show establishes its tongue-in-cheek tone immediately as an axe spins on a gramophone at the centre of Andrew Exeter's rustic, pigeon-topped barn set. The location is significant, being the place where Lizzie (Lauren Drew) hides from her abusive father and mother-in-law and enjoys a liaison with friend Alice (Maiya Quansah-Breed).
When Lizzie is left alone in the house by her sister Emma (Shekinah McFarlane), who has been spooked by discovering her father's altered will, she seizes her opportunity to strike, egged on by her loyal Irish maid Bridget (Mairi Barclay). When an initial plan for poisoning fails, her weapon of choice becomes an axe, and a national scandal is set in motion.
The staging is dynamic and it sounds great, the four-strong band under Honor Halford-MacLeod filling the Southwark Elephant with guitar-infused rock and the cast giving it proper belt through their holstered mics. But the real winning numbers are the ballads, including Drew's heartfelt rendition of "This is Not Love", reflecting on her father's mistreatment, her passionate plea to Alice "Will You Stay?" (which later morphs into "Will You Lie"?), and the sisters' soaring duet "Maybe Someday".
Whelton's choreography is enjoyably energetic, all stomping boots and hair shaking, and the production has impressive fluency across the Southwark Elephant's broad expanse. It revels in gore: in one particularly memorable moment the cast harmonise and dance around a bag of decapitated pigeons ("Why Are All These Heads Off?"), which isn't a sentence I get to write every day.

However, these efforts are somewhat undermined by the weak story structure (the book is by Tim Maner, who co-wrote lyrics with Steven Cheslik-DeMeyer, who co-wrote the score with Alan Stevens Hewitt). The first act builds up to the murder itself, but the fact the parents remain an invisible presence means it lacks tension. The second centres on the trial, though it all becomes rather unfocussed, fizzling out in a fuzzy denouement and inevitable medley.
Ultimately, I'm not sure the story of Lizzie Borden has quite the pop culture cut-through required, especially in the UK, to make this reimagining of her story really fly. But as productions go I don't think it could wish for a better treatment than this one. It's fun, frenetic, and stars four exceptional female talents at the top of their game.