Life of Pi tour confirms full casting and Chichester run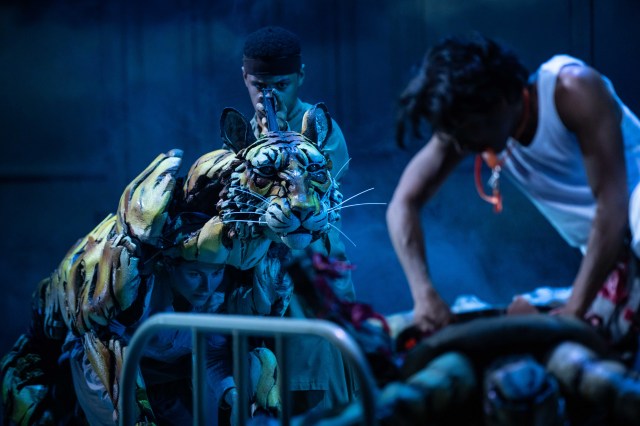 The award-winning stage adaptation of Life of Pi will play an extended run at the Chichester Festival Theatre this autumn as part of its upcoming UK and Ireland tour.
The production, which has also confirmed that Divesh Subaskaran will make his professional debut in the central role of Pi, commences its tour at Sheffield's Lyceum theatre next month. It will run in Chichester from 16 November to 2 December 2023.
Subaskaran is joined in the cast by Antony Antunes (Tiger Hind / Cook / Father Martin), Adwitha Arumugam (Pi Alternate), Bhawna Bhawsar (Lulu Chen/Mrs Biology Kumar), Ralph Birtwell (Mamaji / Admiral Balbir Singh), Kriss Dosanjh (Father), Sebastian Goffin (Tiger Head), Akash Heer (Tiger Head), Romina Hytten (Tiger Heart and Hind), Katie Kennedy-Rose (Tiger Heart and Hind), Aizah Khan (Tiger Heart and Hind), Chand Martinez (Pandit-ji), Keshini Misha (Rani), Goldy Notay (Amma), Sharita Oomeer (Lulu Chen / Mrs Biology Kumar), Kate Rowsell (Tiger Heart and Hind), Lilian Tsang (Mrs Okamoto / Zaida Khan / Ship's Captain) and Peter Twose (Tiger Head / Voice of Richard Parker / Cook / Father Martin).
The show, which was first seen in 2019 and played an extended season in the West End, had its Broadway premiere at the Gerald Schoenfeld Theater in March. A European tour will follow the tour of the UK and Ireland and there are plans underway for a tour of Australia and Asia.
Other UK and Ireland tour venues include Milton Keynes, Norwich, Southend, Cardiff, Canterbury, Bradford, Chichester, Salford, Bristol, Newcastle, Brighton, Birmingham, Belfast, Dublin, Plymouth, Leicester, Hull, Coventry, Nottingham, Wolverhampton, Liverpool, Shrewsbury, Southampton, Cheltenham, Glasgow, Edinburgh, Leeds and Northampton.
Tickets for selected venues are on sale below