Jamie Bogyo is returning to his roots – and swapping Shaftesbury Avenue for Southwark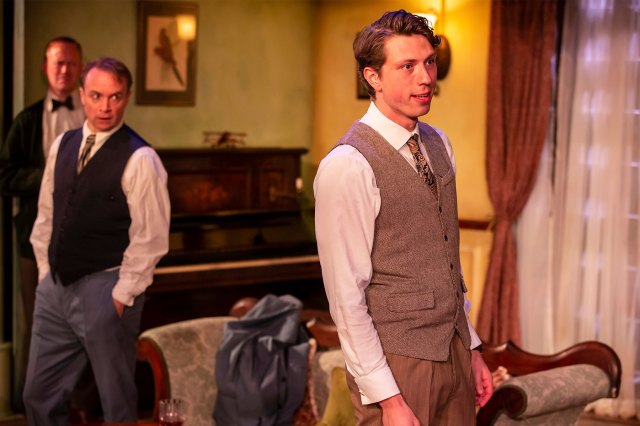 Talk about making a bold first impression – fresh graduate Jamie Bogyo kicked off his stage career in style in the role of romantic writer Christian in the UK premiere of Moulin Rouge! at the Piccadilly Theatre, before stepping into Michael Ball's shoes to play Alex in Aspects of Love about 200m down the street at the Lyric.
But his latest project – the UK premiere of Alan Brody's Operation Epsilon, is a new beast entirely – a straight play just over half a score of characters, revolving around the Allied forces' attempts to discover what secrets German nuclear scientists held in the fall-out of the Second World War. Bogyo takes on the role of young physicist Carl Friedrich von Weizsäcker.
But, as it turned out, a drama was always, perhaps, where Bogyo expected to find himself: "I trained at RADA, where there wasn't any formal musical theatre training. While, of course, I loved to sing on the side, the fact that my first two professional jobs were big musicals was not something I would have ever guessed."
Operation Epsilon, therefore, feels like a return to what may have been expected: " always thought I would probably be doing plays about interesting political topics – so this actually feels like going back to my roots in a way – the sort of thing that I wanted to be the linchpin of my career." Of course – that doesn't mean Bogyo is anywhere near done with musicals ("I want to do it all now!", he exclaims), but he admits that plays like Epsilon "where the kinds that inspired me to train at drama school in the first place."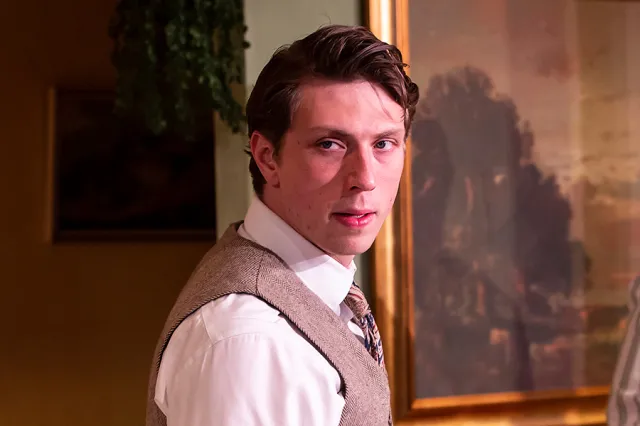 It's clear that Bogyo is keen not to be pigeon-holed: "You're always cognisant as to how your career is perceived. I was lucky to jump into these large-scale productions, but I've always wanted to do intimate, ensemble-led pieces." This also extends to how he observes his own craft, he admits: "You never want to get too comfortable in any way. I always like to do things that challenge or flex or work on new muscles.
This also means playing at a slightly smaller scale: "I've done two big shows in the West End, but have also been drawn towards theatre that isn't the same scale. At somewhere like Elephant, you get this immediate connection with the audience that is the bedrock for these Off-West End venues."
Shows about the Second World War have naturally been all the rage in recent years – notably spy comedy Operation Mincemeat, which also cut its teeth in Southwark (albeit the sister space in Elephant and Castle). Bogyo has a theory as to why that's come about: "I think there's currently a fascination with that period of conflict. And maybe it's something to do with, post-COVID, more of an understanding of the sense of national emergency – and therefore we have to interrogate things that rise to the surface."
Given the play is based on the moral and psychological ponderings of nuclear physicists, naturally the word "Oppenheimer" came up. Bogyo enjoys the fact that the play acts as a bedfellow to the Nolan film:  "Oppenheimer is obviously focussing on the whole American side of things, but what is also really interesting to see is what was going on with the German scientists – who were essentially working towards the same goal. You may see the moral cost of success in Oppenheimer, but you see the cost of failure here. There's an interesting contrast between sort of the purely scientific and the moral and political, which is really what the play explores."
But the pertinence of a group of learned individuals, scholars even, grappling with the impact of their research also applies to the present day world fascinated with the nature of AI: "This is a play that discusses the moral implication of technology. All these scientists during World War Two thought they were exploring pure research, but their scribblings essentially contributed to an explosion that resulted in the death of 300,000 people. Currently with AI, sometimes progress moves faster than we're able to understand the ramifications of it: that's something I think about all the time. There's a human desire to learn and explore, but we've perhaps not caught up with how exactly we should be applying these innovations."
AI may be causing some furrowed brows, but it's clear that Bogyo's future is very bright. Some exciting plans are cooking (he swore me to secrecy until the time is right!) – so we may see a whole new side to the rising star over the next couple of years. In the meantime, Operation Epsilon continues its run at Southwark Playhouse Elephant until 21 October.