In the Heights (Southwark Playhouse)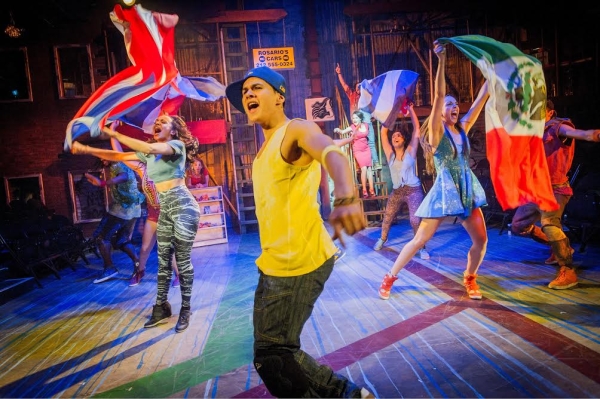 In between the big deal West End openings of The Pajama Game at the Shaftesbury and Miss Saigon at the Prince Edward, in sneaks this fire-cracker of a downtown neighbourhood musical at Southwark, a Latino love-in with a raw rumba rumble and a samba soul sexiness.
In the Heights by Lin-Manuel Miranda (music and lyrics) and Quiara Alegría Hudes (book) hit Broadway in 2008, scooped 13 Tony nominations, winning four of them, while laying bare the dreams and aspirations of a close Dominican-American community in Washington Heights, New York, over three busy days and three steamy nights.
The rents are rising along with the temperature as Sam Mackay's rapping shop-keeper Usnavi scares off a graffiti artist; Christina Modestou's Nina returns from her freshman year at Stanford University to tell her taxi despatch owning father (David Bedella) that she's quitting; and Daniela and the girls at the hair salon are revving up for a party.
"Does your cousin dance?" "Like a drunk Chita Rivera," more or less sums it up, as Luke Sheppard's cast – led gloriously astray by the outrageous Victoria Hamilton-Barritt as the dynamic Daniela – rips into Drew McOnie's choreography like a crowd of well-drilled dervishes.
It's 4 July and even a power cut can't switch off the rhythm and roll as the first act explodes in a torch-lit finale, degenerating exquisitely into a street fight salvaged by a fireworks display: a superb example, in Howard Hudson's lighting, of how to do "spectacular" on a shoe-string.
There's a quieter strain to the second act: Nina's parents channel their anger about her college defection into a more positive attitude towards her insistent suitor (Bedella and Josie Benson are like the Capulets dealing with Juliet), the old wise woman Claudia (Eve Polycarpou), who's won $96,000 on the lottery, is celebrated in a mournful procession, and Usnavi sorts out his bodega business and love match with Emma Kingston's feisty, frolicsome Vanessa.
Most of the relationships end on a protracted semi-colon, just as the community itself is poised between where it came from and where it's heading. This is a melting pot on the move and, boy, does it move with a vengeance.
Technically, the show could do with some fine-tuning on its sound system. Tom Deering's brilliant little band, snugly accommodated on takis' split-level design of corrugated iron, ladders and shop windows, is too fiercely ranged against a hard metallic edge on the vocal amplification; Usnavi's furious rap lyrics are only semi-comprehensible, for instance.
Otherwise, no complaints about a show that has elements and echoes of West Side Story and Rent, though entirely its own phenomenon, streaming elegant melodic lines through tribal dance numbers that distil the essence of a community at the very moment when it seems most threatened. In that sense, the expression of the survival instinct in song and dance carries a live-for-the moment desperation that defines a particular and irresistible vitality.
In the Heights continues at Southwark Playhouse until 7 June