How stagey are you? Drew McOnie vs Charlotte Wakefield
Drew McOnie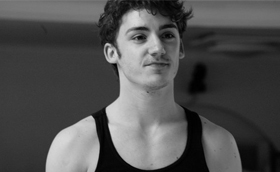 Drew is fast becoming one of Britain's most sought after emerging choreographers.
He is the artistic director of The McOnie Company and an Associate Artist at The Old Vic and Leicester Curve Theatre.
His recent theatre credits include Bugsy Malone, Oklahoma! and Hairspray.
Charlotte Wakefield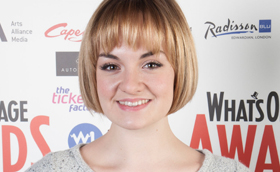 Charlotte is a double Olivier Award-nominee.
Her theatre credits include The Sound of Music, Spring Awakening and Mamma Mia!.
She is currently touring the UK in Oklahoma!
What was the last show you went to see?
I went to see Carrie on press night. I squealed all the way through! 1
Bugsy Malone – it's a Drew McOnie show so does that count? 1 [It's brilliant, so yes!]
How many showtunes do you have on your iPod and what is your favourite?
My phone is all showtunes. I listen to the show that I'm choreographing at the time. At the moment I'm listening a lot to Hairspray 1
I listen to a new musical every day if I can! 1
What is the stagiest picture you have in your phone?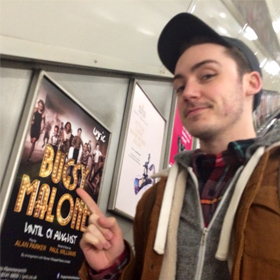 This is me getting excited at the first time I have a show on the underground! The 12 year old tourist from Birmingham I once was is extremely excited about it! One life goal done! 1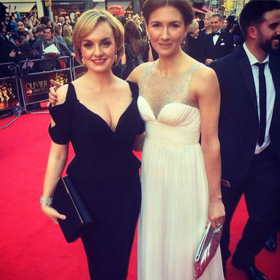 I have many…but probably a snap of me and Summer Strallen at the 2014 Olivier Awards. Stagey x2! 2 [Indeed, bonus point for Strallen and Oliviers action]
Who is the stagiest contact you have in your phone?

Jason Robert Brown. It's a huge fear factor of mine, I get worried that I'll drunk call him and start singing songs down the phone at him. 1

Michael Xavier. The stagiest man I know. 1 [He's not as stagey as Jenna Russell, but we'll give you that]
How many of the Strallen sisters can you name?
All of them. Sasi, Zizi, Summer and Scarlett. I've worked with three out of the four. The one I haven't worked with, Summer, comes to my class on a Monday night.
The stagiest event of all was when three of them brought their father to my class and they were all trying to Skype Scarlett on Broadway from my class because she was gutted she couldn't be there. 2 [Bonus point for stagiest Strallen story ever]
All four. Scarlett, Summer, Zizi and of course our very own Sasi who I'm working with right now. 1
What is your favourite Shakespeare quote?
"When you do dance, I wish you A wave o' th' sea, that you might ever do Nothing but that." – Winters Tale 1
'Though she be but little, she is fierce.' A Midsummer Night's Dream. I always get cast with tall men. A girl's gotta have a come back. 1
Do you have any theatrical superstitions?
I do actually. On an opening night I don't look at any Good Luck cards until after the show. I save them and read them, probably drunk, on the train home. 1
Not really. I just cross my heart and hope for the best! 0
Who would be your ideal dinner date?
Jerome Robbins or Shirley MacLaine. 1
Meryl Streep. Obviously our Mamma Mia! connection would be a conversation starter.. 1
Tell us a stagey joke
What do you call a one legged dancer? Eileen. 0 [Groan]
Why shouldn't you tell an actor to break a leg? Because he's already in a cast!!
0 [Groan]
What is your earliest theatrical memory?
The first show I went to see was Joseph and the Amazing Technicolor Dreamcoat. Sitting in the auditorium watching Philip Schofield play Joseph, I was like "This is what I want to do!" 1
Waking up and thinking 'I was born to do this!' Joking…not joking! 0
And the winner is…
10/10
Drew takes the top spot from Jenna Russell in our Stagey League Table with a full house, we expected nothing less from this rising star. We can't wait to see the video of a devised "How Stagey Are You?" champion dance.
8/10
Strong competition from Miss Wakefield, who joins former cast-mate Xavier in joint fourth place in our overall table.
---
Coming up next week: Rachel Tucker vs Lucy Briggs-Owen
Stagey League Table

1. Drew McOnie
10 points
---

2. Jenna Russell
9 points
---

3. Kerry Ellis
8.5 points
---

=4. Gerard McCarthy
8 points
---

=4. Noel Sullivan
8 points
---

=4. Charlotte Wakefield
8 points
---

=4. Michael Xavier
8 points
---

8. Louise Dearman
7 points
---

=8. Carley Stenson
7 points
---

10. Charlie Brooks
6.5 points
---

11. Catrin Stewart
6 points
---

12. Matthew Kelly
4 points
---