Great Expectations in the West End review – Eddie Izzard mixes magnetism and flamboyance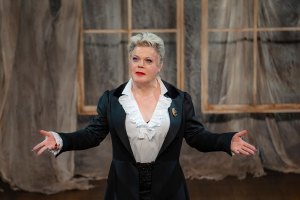 One of the most idiosyncratic and beloved comedic talents this country has ever produced takes on the most iconic English writer of the Victorian era in this bewitching solo show, and the winner is …the audience. An off-Broadway success late last year, Eddie Izzard's rendition of Dickens's Great Expectations sashays into the appropriately atmospheric and ornate Garrick Theatre on a cloud of critical acclaim and populist goodwill. Pitched halfway between stand-up routine and the dramatised readings of his own novels with which Dickens himself enthralled audiences on both sides of the Atlantic, this Great Expectations is a simultaneous testament to the power of storytelling and the formidable technique and sheer charm of Izzard.
Clad in an elegantly fitted black jacket, high boots and ruffled white shirt, like a gorgeous combination of foppish highwayman and dominatrix, Izzard cuts a glamorous, quirky figure, her scarlet lip-sticked, generous mouth and drolly mischievous, expressive eyes adding extra layers of wit and delight to Dickens's verbal narrative. Her drawling, sardonic delivery sometimes feels at odds with the verboseness of the writing but the specificity of the individual characterisations, from a tinder-dry Miss Havisham to a threatening Magwitch and a tenderly drawn, entirely sympathetic Gargery, mostly makes up for that.
Izzard doesn't disappear into the characters the way some monologists do: she's less chameleon, more impressionist. Instead she wears each of them like a carefully curated costume, lovingly observed and rooted in truth. Tellingly, there's barely a hint of camp to the portrayals of female characters Havisham, Estella, Biddy or Mrs Gargery, but there's a joyful abundance of it in the physicality with which Izzard embodies a coach ride to London or the ascendance of a rickety spiral staircase (lovely work from movement director Mimi Hopkins).
Crucially there's the requisite amount of gravitas at key moments. Audience members at the performance I saw reacted with audible sympathy when straightforward, unworldly Joe Gargery absents himself from Pip's London life, or when Pip returns home to propose to Biddy, and you could hear a pin drop when the Havisham plot strand reaches its appalling conclusion. Although Izzard's unique, irresistible mixture of vulnerability, magnetism and flamboyance hangs over the entire evening, Dickens's novel never feels shortchanged.
Mark Izzard (Eddie's brother) has done a capable filleting job in getting a 500+ page novel down to a two-hour stage playing time, and Selina Cadell directs with a light but sure touch on a tumble of blood-red drapery (set by Tom Piper) bejewelled with a solitary chandelier. Tyler Elich's lighting design is a wonder of mood-shifting invention, augmented by Eliza Thompson's subtle but essential score.
This is very special, and surely a must-see for Eddie Izzard fans and Charles Dickens enthusiasts. Quality solo shows must be manna from heaven for theatrical producers and between this, Sheridan Smith's universally lauded Shirley Valentine and Maureen Lipman's shatteringly powerful Rose, the West End has never had it so good, and Eddie Izzard's national treasure status has never felt so justified. Glorious.