Full cast announced for RSC's Henry V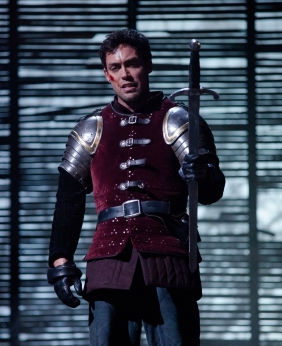 The Royal Shakespeare Company has announced the full cast for Henry V, which opens at the Royal Shakespeare Theatre in September.
Playing the title role of King Henry will be Alex Hassell, who recently starred in the RSC productions Henry IV and Death of a Salesman.
Henry V runs at the Royal Shakespeare Theatre, Stratford-upon-Avon from 12 September to 25 October 2015 with a live broadcast from Stratford-upon-Avon 21 October. The production will then transfer to the Barbican from 7 November to 30 December.
The full cast for Henry V includes: Daniel Abbott (Gloucester/Monsieur le Fer), Martin Bassindale (Boy), Antony Byrne (Pistol), Sean Chapman (Exeter), Oliver Ford Davies (Chorus), Nicholas Gerard-Martin (Orleans/Bishop of Ely), Robert Gilbert (Dauphin), Alex Hassell (Henry V), Jim Hooper (Canterbury/Erpingham), Jennifer Kirby (Katherine), Jane Lapotaire (Queen Isobel), Sam Marks (Constable of France), Dale Mathurin (Bates/Bedford), Chris Middleton (Nym/Warwick/Governor of Harfleur), Evelyn Miller (Rambures/Lady-in-Waiting), Keith Osborn (Montjoy/Scroop), Sarah Parks (Mistress Quickly), Leigh Quinn (Alice), Joshua Richards (Bardolph/Fluellen), Simon Thorp (King of France), Obioma Ugoala (Grey/Gower), Andrew Westfield (Westmoreland/MacMorris) and Simon Yadoo (Cambridge/Williams/Jamy).
As part of the King and Country season, the Henry V cast will be joined by David Tennant (Richard II), Antony Sher (Falstaff), Julian Glover (John of Gaunt), Jasper Britton (Bolingbroke/Henry IV), Matthew Needham (Harry Percy/Hotspur/Mowbray) and Emma King (Lady-in-Waiting/Lady Mortimer/Doll Tearsheet).
Gregory Doran directs Henry V, with design by Stephen Brimson Lewis, lighting by Tim Mitchell, original composition by Paul Englishby and sound by Martin Slavin.
Marking the start of the 400th anniversary year of Shakespeare's death, King and Country, a complete four-play season cycle of Richard II, Henry IV Parts I and II and Henry V, will play in repertoire at the Barbican, after which, Henry IV Parts I and II and Henry V will tour to China and the US.