Enjoy (West Yorkshire Playhouse)
When Enjoy was first performed in 1980, it was one of the least successful of Alan Bennett's plays in audience terms. However, it's one of those plays that improves as the years pass, partly because it now seems so mischievously prophetic, but it still needs an element of code-breaking in the production – which it gets in the hands of James Brining at the Playhouse.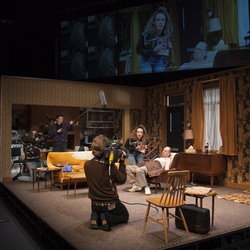 Enjoy begins with an elderly couple in one of the last back to backs in Leeds; they are awaiting demolition of their property and removal to a new maisonette. The opening scene is done with typical Bennett acute observation and wry humour, but fairly conventional, he obsessing about his bad arm, one of various injuries caused by a hit and run driver, she talking in circles through memory loss, both pursuing different conversational agendas. With the arrival of a council sociologist tasked with silent observation of the passing of a way of life, the first of many shifts of focus occurs.
So this must appear to be a conventional old-fashioned Leeds household – and also appear not to be. James Brining's code-breaker is to set the stage reality alongside other realities. Alex Lowde's convincingly detailed set is placed within giant packing cases at the start, as though en route to a museum, and above the main set is a visual commentary on the action (designer Ian William Galloway), whether from the street outside or close-ups from reality television filming. The final transformation hints at Irwin's television programme in The History Boys.
Enjoy, though it is amusing in both a cosy and a subversive way, is essentially an issue-driven play. It looks at the heritage industry much more bleakly than the slightly later Lettice and Lovage and anticipates The Truman Show by nearly two decades in examining the intrusiveness of reality television. Bennett's sardonic awareness of the power of even a silent audience of one to influence conduct is even more pertinent today. He casts a beady eye on myths of neighbourliness and traditional family life: this is the sort of dysfunctional family in which knowing your children is not really on the cards.
Philip Martin Brown and Marlene Sidaway carry much of the action effectively as Dad and Mam, neither playing for gratuitous audience sympathy, though her dizzy sentimentality can be appealing. Rob Delaney projects all kinds of ambiguity and Sian Reese-Williams is a bitterly comic whirlwind as the "private secretary" daughter. Among the smaller parts Vanessa Rosenthal is a delight as Mrs. Clegg, playing to the hilt (and the camera) the part of the good neighbour. If only life in the back to backs had such nobility, but the butcher's son from Armley knows better.
Enjoy continues at the West Yorkshire Playhouse until 7 June 2014