Edinburgh Fringe Q&A: Rebekah Hinds on revisiting Kathy and Stella Solve a Murder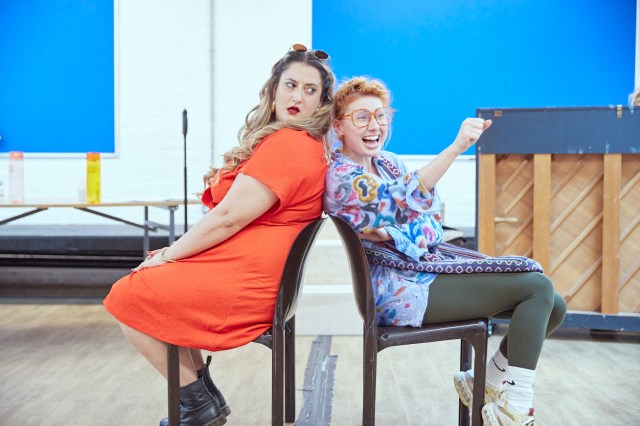 What have you been up to since Kathy and Stella made its Fringe debut last year?
I celebrated the end of Edinburgh Fringe 2022 by having a small emotional breakdown in the sea in Madeira. After that, a short film, a handful of great workshops and then was lucky enough to transfer into the West End with Oklahoma!.
For those who haven't seen the show, or need a refresher, how would you describe Kathy and Stella Solve a Murder?
The perfect night out. I know I'm biased, but I think it has a bit of everything. Although it moves at such a pace it's difficult to form a proper opinion until it's over! Similar to a rollercoaster I suppose.
How similar are you to your characters in real life?
I'd like to think I'm more mature than Stella… but maybe the rest of the cast would laugh at me for that. I'm definitely much more anxious and she's very impulsive. As an actor you always end up bringing a bit of yourself with you into every role, so I'm sure there are a lot of similarities (the biggest one being that we both deflect with humour!). But fundamentally I'd say we're actually very different.
How does performing on a Fringe stage compared to the London stages you've both been performing on recently?
The floor is often really dirty.
How were your Fringes last year? What did you get up to when you weren't performing?
We had a brilliant time. But it was also exhausting. I tried to see as many shows as possible, but mostly I ended up sat on the end of Reuben Kaye's bed watching him put his make up on while eating his homemade chicken soup. (Reuben is an excellent comedian and cabaret performer, go check out his shows. Shameless plug.)
What will you make sure to do again?
Go for poutine at 2am.
What else are you looking forward to at Fringe this year?
The creative atmosphere. There's nothing like it. I love finding a hidden gem. Stumbling across a show that you have no idea about then coming out and having a full epiphany.
Are you excited to be taking the show out on tour to Bristol and Manchester this autumn?
Edinburgh Fringe audiences are so supportive. I'm intrigued to see what the reaction will be like in different cities. I'm excited to put the full show together with the full set. It'll be special to finish in Manchester because I grew up watching theatre there and it was also where I did my first professional theatre job at the Royal Exchange. I'm pretty sure my Dad will hire a bus and bring everyone from Southport.
Kathy and Stella Solve a Murder is at Underbelly, George Square from 2 to 27 August (not 9, 14, 21)