Early One Morning (Octagon Theatre, Bolton)
Early One Morning was first commissioned in 1998 by the Bolton Octagon to commemorate the 80th anniversary of the Armistice, and it returns there 16 years later.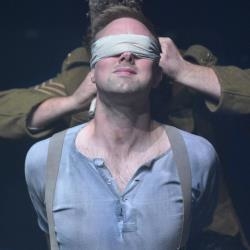 Les Smith's story of a deserter during WW1 is a very Bolton-centric play. It could only be put on here; the location is intrinsic to this play's success, from the jokes and comments about various places in the area to the very fact that the play's central figure is from Bolton. This means that a lot of the play is lost on someone who is not from or does not know the area.
The story of two lovers separated by circumstance is told endlessly on the stage, literature and at the cinema, and often better than this. The connection that was felt between Private James Smith (Michael Shelford) and Lizzie Cartwright (Jessica Baglow) at first diminishes quickly.
This is down to the performance of Shelford, who lacks emotion throughout. This is most apparent when he is told his fate, his lines are delivered flatly, as if he is just going through the motions, trying to get to the end of the performance as quickly as possible.
Baglow, on the other hand, is wonderful as Lizzie, James' love interest, really showing her deep sadness at seeing him go back to the front. The rest of the cast were not really that memorable (but by no means poor) in the first half of the play, but the second half lacks the intensity and emotional depth of the first. It feels as though the interval relaxes them too much and they appear rather lacklustre.
There is great attention to detail in the James Cotterill's set design, with every available space utilised to great effect. The mud that covers everything, the corrugated iron that surround and the chicken wire that separates all transform the theatre into a war zone.
This immersive set design is matched by Andy Smith's assault of sound. The common sound of gunfire and shells does not seem obvious and overused, rather heightening the sense of involvement.
Early One Morning should tug your heartstrings, but it lacks the emotional depth, impact and consistency to truly move you.
Early One Morning is at the Octagon until 1 November.