Did critics think Heathers was a killer musical?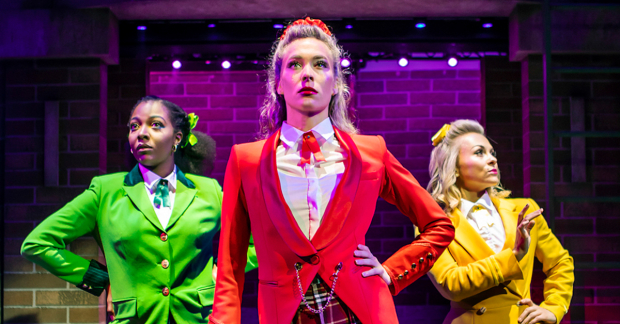 ★★★
"There are nights in the theatre where I feel that I am watching a different show than everyone else. So it was at Heathers. I was mildly entertained at points, but the sheer raucous noise of the thing put my teeth on edge. Yet all around me, was an audience whooping with joy."
"The songs all sound the same (and are all VERY LOUD) and the mundanity of the lyrics begins to grate. I can just about enjoy a routine that turns the death of two jocks in a fake suicide pact into a hymn to tolerance and love for "my dead gay son" but I felt my smile freeze on my face when the show's satire on the way everyone cashes in on teenage suicide is played as screeching farce."
"As Veronica, Carrie Hope Fletcher has just the right mixture of ruthlessness and idealism; she is a good girl who gets mixed up in a bad things. Her blinding passion for JD is built on one of the musical's few quiet – and consequently most effective – scenes, when they met and talk and he sings of his love for slush puppies and the way they freeze your brain."
★★★★
"In this adaptation, the victims of Veronica and JD, remain as blackly comic presences after they have been despatched. Jodie Steele's Heather Chandler is as monstrous dead as alive. Parading around in nothing but matching Y-fronts are the two homophobic football jocks – Kurt (Christopher Chung) and Ram (Dominic Andersen) – whose death was made to look like a gay suicide pact. This posthumous persistence underlines how adults misinterpret the seeming suicides for their own purposes. In an obvious but amusing sequence in the school chapel, the fathers of the jocks don't just embrace their boys' supposed sexuality, but, remembering the summer of '83 ("that was one hell of fishing trip") come out themselves with some roof-raising clinches."
"Those who are keen to hear classic lines from Daniel Waters's movie script – "Grow up, Heather. Bulimia's so '87", say, or the one about doing something "gently with a chainsaw" – will not be disappointed. The show is packed with talent performed with huge zest. But as it weighs up the relative merits of popularity and inclusivity, you may wonder is this jollied-up version of Heathers is sufficiently unsettling."
★★★
"O'Keefe and co-writer Kevin Murphy largely defang their source material. Many of the movie's more interesting ambiguities are removed – Veronica (played with energetic sweetness by Carrie Hope Fletcher) doesn't deliberately kill anyone, JD (an excellent Jamie Muscato) is more creepy than cool. Kids die on stage, but this is treated with a Little Shop of Horrors-esque campiness as opposed to the movie's gut punch."
"This musical justifies its existence best when it goes to weird extremes, such as when a bitchily disdainful Heather Chandler (Jodie Steele, who comes close to stealing the show) haunts Veronica after she is killed off. The music is so generic it falls out of your memory as soon as you leave the theatre, with the exception of two lovely ballads: "Seventeen", in which Veronica pleads to be a normal, non-murdering teenager, and "Freeze Your Brain", JD's paean to the frozen slushies that help him numb his feelings."
★★★★
"For the first 15 minutes, the signs aren't great. Kevin Murphy and Laurence O'Keefe's adaptation has Veronica explain who everyone is, what they're like. The film just chucked us straight in and made us work it all out for ourselves.
"But, when it reaches the same level of subversion as the film – the darkness and demons point – it gets there good. There's the same crazed, insanely dark endpoint, now with added music, a thrilling score by Murphy and O'Keefe, full of bopping pop songs and moody ballads."
"Andy Fickman's direction and Gary Lloyd's choreography excel when it comes to the three Heathers. They sashay and preen, flicking their hips and owning the stage in perfect sync. Sophie Isaacs and T'Shan Williams brilliantly emulate their leader Jodie Steele by plastering their faces with perma-scowls."
★★★★
"It can't offer close-ups on impassive faces or attain the sustained deadpan of the film. But what it does do – using the lever-switching power of song – is send you on a psychological roller-coaster, lurching between sincerity and insincerity, triviality and profundity, challenging you to gag or guffaw at the runaway, rebellious bad taste of it all."
"Fletcher breaks through into the big time here: tuneful, thoughtful, tilting between cattiness and compassion, morality and devil-may care. Up there with Hamilton? No, that's the point. It's down with the kids in those daunting corridors of power, where in-crowd favour hangs on a look, a word. Does it help to be a fan of the film? Sure. But we've all been there."
★★
"If it were just a musical it would not be in the West End — it's not that good. But don't tell the distinctly twentysomething audience. They cheered everything. Every song was greeted like a long-lost friend, every minor joke indulged. At the end, the standing ovation was instant."
"It's a cult, basically. This show, produced by Bill Kenwright and Paul Taylor-Mills, began its life at The Other Palace, a talent-nurturing, off-West End theatre owned by Andrew Lloyd Webber, and is probably critic-proof. Still, for the record, Houston we have a problem. Wonky sound, stilted action and atrocious lyrics. Example One: "Once you were nerdy and grotty, now you've got a body like a Maserati." Example Two: "I'm not afraid, I feel like Bono at Live Aid."
Andrzej Lukowski, Time Out
★★
"The tunes are big, bright things, sweet and crunchy and hooky. That they're often completely unsuitable for the story – the second act becomes unforgivable bogged in sentiment and exposition – won't necessarily matter to those approaching Heathers as fans of the music rather than the film."
"The musical consistently fumbles the source material. The second half, in particular, is unforgivably mawkish. Details are consistently fiddled with: JD gains a more tragic back story; there are fewer killings and less brutal executions; Veronica's inadvertent slaying of one of her jock tormentors is shifted to JD; the two of them sing songs about their feelings for each other; but what is the actual point when you're dealing with a story that has multiple homicides baked in? It feels like an ersatz '80s kitsch edition of High School Musical.