Declan Donnellan: 'There are enormous benefits to playing work to different cultures'
Cheek by Jowl is the international touring theatre company of Declan Donnellan and Nick Ormerod. Since forming in 1982, it has performed across the world presenting large scale classical and modern works in English, French and Russian languages. Their recent production of Tis Pity She's a Whore has played Paris, Sydney, New York, Madrid, Taipei as well as extensively in the UK and they are about to bring their French-language Ubu Roi back to the Barbican Theatre next month (18-22 June).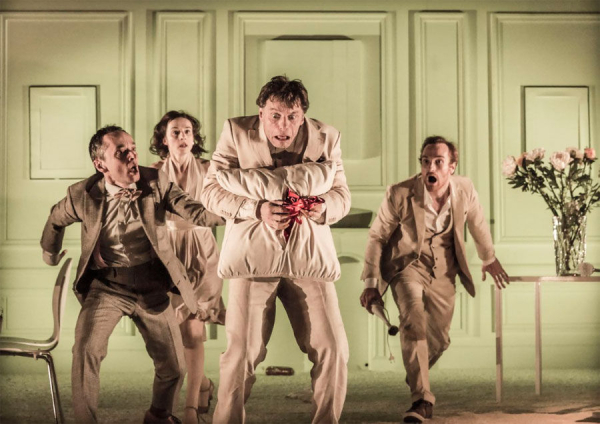 We are often asked how we approach our work across languages and cultures. A strange observation may be that if the past is a different country, then re-presenting an old text must in itself be international – even if you never actually go abroad!
The question itself seems to present an assumed obstacle for audiences that requires 'solving' or 'dealing with' but it is not something, in all honesty, that we ever consider. For us, working in one language or another isn't the issue, just as putting our English language work in front of international audiences should not affect their engagement. The question which is often asked is how international audiences differ in their response; the more interesting question would be: "what remains the same?"
What is on stage should speak for itself irrespective of the language in which it is delivered or whether comprehended by spoken word or surtitle. The story, or more importantly, the experiences at the heart of a piece should be alive – and life transcends the language in which it is delivered.
I sometimes lead workshops with actors on scenes in languages I don't speak at all. Sometimes they ask to present their work in English. But it is far more important that they prepare their work in their native tongue so that they can give as open a performance as possible rather than tethering themselves to another language and blocking themselves.
However, to try some sort of answer to this question, I asked the actors themselves as they are the ones who experience first-hand the differences between performing in their native tongue and playing to a foreign language audience. But they also feel clear that language is not a barrier to understanding a performance.
Of course this is not to say that, for example, the surtitle translation is not of paramount importance. As our actors all agree, a good translation with a rhythm that fits the pace and shape of the performances is essential: "A surtitle which is projected one second too soon or too late can ruin the understanding which the audience will have of a scene or confuse them." (Xavier Boiffier – Ubu Roi company); "If the surtitling gets slightly out of sync, the audience responds to something which bears no resemblance to what has happened on stage." (Peter Moreton – Tis Pity company).
As one of our actors, Ryan Ellsworth recounts: "we have been extremely fortunate to have had brilliant translators working with Cheek by Jowl over the years. They attend preliminary rehearsals, technical rehearsals and operate the surtitle screens during performances, writing and re-writing continually. They revise during a run reacting to changes in performances and audience reactions (peals of laughter, gasps of horror etc)." In other words, the translation needs to remain as alive as the performance itself.
Ryan also points out that Cheek by Jowl "creates strong visuals through their work with the company's ensemble. Much time is invested in creating this. Through movement, dance, music and design, Cheek by Jowl have always created work which, to my mind, marries great textual work with unforgettable sights and sounds, transcending language."
There are enormous benefits to playing work to different cultures. Xavier notes that, "In Romania, the show (Ubu Roi) and the portrayal of the petty dictator King Ubu created different, very sensitive reactions in the audience because of the marks left by their own dictatorship." I also remember 25 years ago in Bucharest at the time of Ceaucescu the impact that the audience felt from The Tempest and how it deepened and changed meanings for all involved. I never before had felt how so many characters are driven by a desperate need for liberty, for example.
Every audience is unique. No two audiences are the same. This is wonderful news as long as the work is open to these new enriching energies. Diverse audience reactions help us evolve our work and increase the intensity of its life. These different influences are exciting, unpredictable, and keep us all on our toes. We are dependent on the outside world to give us air and food. This energy from the outside world is indispensable. We are more than grateful for this diversity – as these differing inputs keep us alive.
Ubu Roi is at the Barbican from 18 to 22 June 2014 – for more information click here