David Haig: "Playing King George III changed the way I think about acting"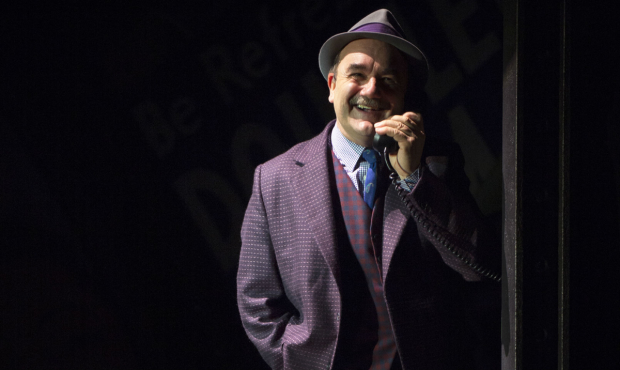 Nathan Detroit is one of those roles. You know the ones – the sort that actors love to play. The sort where theatregoers say: 'Did you see his [insert character name here]?'. One of the four leads in one of the best musicals – if not the best – of all time, Guys and Dolls, Nathan Detroit is the cheeky, funny New York gambler, who doesn't even have to sing too much (so non-musical stars love him too). His dialogue is sassy, snappy and he's a juicily rounded character. And actor David Haig is pleased as punch to be playing him.
"When I thought back over the people who performed it: Pete Postlethwaite, Bob Hoskins, Douglas Hodge and Henry Goodman, I respect and admire all four of them so I thought there must be something to this role," Haig says ahead of the West End transfer of Chichester Festival Theatre's hit production. "Actually I heard that it was one of the last parts that Olivier wanted to play and then he got very ill. So if he wanted to play it, who am I to turn it down, eh?" he chuckles.
I think it's unlikely there was ever any talk of Haig turning Nathan Detroit down. Haig is made for this part. One of our best stage actors, he has enjoyed over 25 years of working in roles as diverse as Rudyard Kipling and King Lear. He's made us roll about with laughter in Four Weddings and a Funeral and The Thin Blue Line and he's won an Olivier Award for his turn in Our County's Good in 1988. His performances – whether they be comedy or straight roles – are as dedicated and convincing as you'll get.
"It's incredibly rare to find a role that you feel is in your blood stream."
If you saw him being King George on stage in The Madness of King George III in 2011, you'll know what I mean. It was a wonder how anyone could play that part again after Nigel Hawthorne did it in the 1994 film. But Haig did, and boy did he do it well. He was tragic, hilarious, wise and utterly, utterly mad. He made the part completely his own.
"It's incredibly rare to find a role that you feel is in your blood stream. When I did George III, I felt that it fitted like a glove and that I could really express what I wanted to as an actor," he explains.
"I put so much of myself in it and it seemed to work well and therefore it came together chemically, I don't think I'll ever meet a part like that again or will feel the same about acting again," he says. "So I have a slightly different attitude to acting than I did three years ago because of that."
It's rare to find an actor so open and this feels like a very personal admission from Haig. But the actor has been around long enough to say what he likes. He's warm and friendly during our chat, as well as very funny. "I can switch between comedy and straight roles, yes, despite the moustache still being there" he jokes, referring to his immediately recognisable facial hair, which so helped to define him as the uptight Detective Inspector Derek Grim in The Thin Blue Line.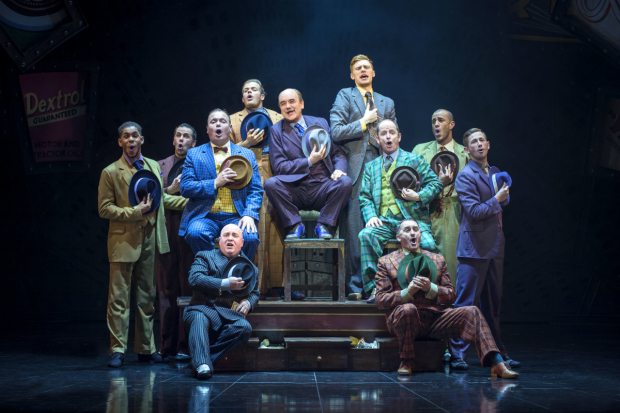 He's still sporting it as Nathan Detroit, a part that he's keen to nail in the authenticity stakes: "I wanted to make him accurate as far as New York street life is concerned. I wanted Americans who stray into the Savoy this Christmas to recognise that authentic New York American, that was my biggest ambition and hopefully I have achieved it," he says. The accent is key, and it sounds as though he shouldn't have too much trouble, having just come from filming Florence Foster Jenkins where he played a New York singing teacher opposite Meryl Streep.
Haig is a man at the top of his game, but he's looking more towards being offstage than on. He's written several plays and hopes to continue to do more. There's a new one on the boil, and one which he's hoping to get into the West End soon too: "I'd like to start just doing the acting work that really excites me rather than feeling a need to do every job. I'm 60 and in the next decade, as long as I can stay healthy, I would like to write more and more."
He's clearly still enjoying acting, though: "The last three major parts I've played recently are all extremely serious men," he says. "But fortunately I got lots of laughs on route. That's what I love – doing serious work but having an inherent humour underneath."
Guys and Dolls opens at the Savoy Theatre January 7 and runs until March 2016.