Dark Vanilla Jungle (Soho Theatre)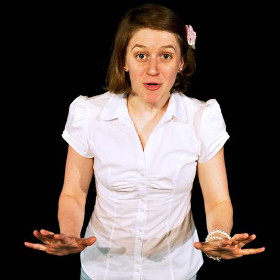 Upstairs at the Soho Theatre provides the simplest of settings for Philip Ridley's bleak play. I would recommend that you see this play simply to witness the sheer feat of emotional and physical stamina that Gemma Whelan's performance represents.
For seventy five minutes, Whelan's solo performance is fully charged, unrelenting and pretty extraordinary. At times her monologue is so fast and intense that it seems impossible that every syllable of her delivery is crystal clear, and yet it is. At one point, so real is her portrayal that I was not just fully absorbed but concerned for her safety!
The story is as dark as they come. Andrea, a fifteen year old girl is spared nothing as a brutal chain of events unfolds: first Angela is sexually groomed and assaulted by vile young men; then abandoned by her parents, before falling victim to an absurdly cruel act of nature. Any one of these issues would have been sufficient to frame the drama, but the fact that Ridley chooses for his character to suffer them all pushes this play to the edge of credibility although it probably stays on the right of the line – just.
There are shades of Ibsen, Pinter and Mike Leigh. Is there a message? I'm not sure – bad things happen to Angela because the world can be a dangerous place for young vulnerable people but the play doesn't paint Angela as a passive victim anymore than it seeks to blame society.
Its difficult to describe the evening as 'enjoyable' simply because the issues explored are so appalling and their portrayal so immediate. To say that it is uncomfortable viewing, certainly at times, is intended as a compliment to Whelan's performance and David Mercatali's direction.
There are moments of levity and Whelan is so close and intimate with her audience that its an exhilarating, if exhausting journey.
Dark Vanilla Jungle runs at the Soho Theatre until the 13th of April