Choir Boy at Bristol Old Vic – review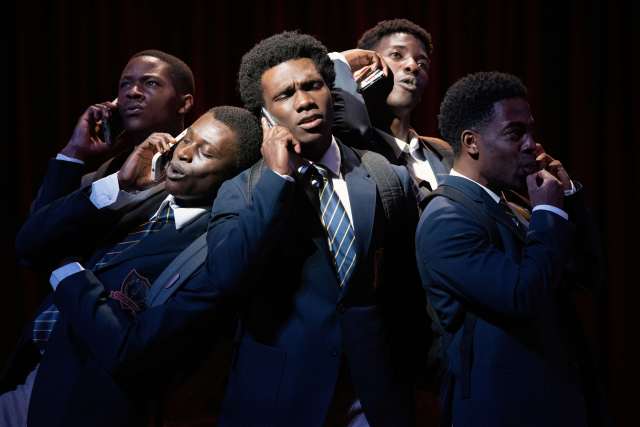 It's all change at Bristol Old Vic. After Tom Morris swept in at the end of the noughties to save the ailing theatre with his mix of Brechtian epic, magic, and mischief we now have Brooklyn-born, long-term Bristol resident, Nancy Medina at the helm. This, her first show on the main stage, is a signal of intent. Choir Boy's magical harmonies blend seamlessly into a joyous and thoughtful play that places the Black, queer experience at its heart and wrestles complex themes around stunning musicality; a mix of gospel, spiritual and Boyz II Men; to bring joy to its audience.
Tarell Alvin McCraney moved on from this 2012 play to write a similarly uplifting Academy Award-winning film on similar themes called Moonlight. You can read this as a sophomore work, with large chunks of greatness mixed with elements that need development. In Pharus he has created a character of real depth, vulnerable yet cocky, thoughtful but catty, comfortable in his own skin mixed with the uncertainty of who he is to become. As a special talent in an elite school, he has the unerring ego and ability to wrap an argument to his own agenda that suggests great privilege, a lifetime of never missing a note in performance, yet when a fellow classmate insults him with homophobic slurs, he falters and we are reminded that a young, Black queer man more than most has to find his own way into accepting his masculinity. It is a gem of a part and one that Terique Jarrett, so brilliant in "Daddy": A Melodrama, grabs with both hands. His tall lean frame, angles into the choreographed movement the group produces as they sing, his hands never stop whirling as though he hasn't yet gained control of his body. In the play's stand-out scene, as he argues that spiritual songs, far from being just coded lyrics to help slaves escape their captives, offer a far more valuable guide to spirituality, we see him begin to discover how these works can help him find a strength away from the swish that some define him with.
Jarrett is one of many stars of the future here, but he is the only one with a fully fleshed character to work with. The rest are playing tropes, from the bully nephew of the headteacher to the sensitive jock to the class clown to a boy who is hiding something until a climatic and obvious reveal. McCraney is a brilliant enough writer to make each of these characters a pleasure to spend time with, but it doesn't hide the fact that there is a bit of a checklist being ticked off. Still, if you're going to play that, you might as well do it with actors as terrific as Michael Ahomka-Lindsay as the scholarship boy worried about his grades, Jyuddah Jaymes as the roommate who offers kindness and light, and Daon Broni as the headmaster who subtly tells Pharus to hide his light under his bushel. And when they sing, the school anthem "Trust and Obey" and the wonderful "I Sometimes Feel Like A Motherless Child", you can't help but feel the elation of live performance.
Medina's production unites these five young men into a tight-knit ensemble, you can see the love and unity writ large across the stage. It's a bold and successful statement of intent, one that places underrepresented stories front and centre and imbues them with joy and love.