Cable Street musical to have world premiere at Southwark Playhouse Borough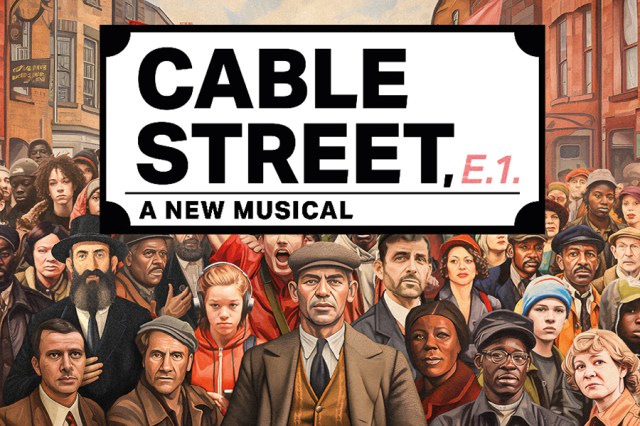 The world premiere of the new British musical Cable Street is set to open at the Large, Southwark Playhouse Borough.
Running from Friday, 16 February to Saturday 16 March 2024 (with a press night scheduled for Monday 26 February), Cable Street tells the story of the people of London's East End in 1936, focusing on three young workers: Sammy, a Polish Jew; Mairead, an Irish Catholic; and Ron, a Lancastrian Brit. The pivotal moment in their lives occurs on Sunday 4 October 1936, during the Battle of Cable Street, with the musical raising the question around which side the young protagonists and their families will be fighting for.
The production is written by composer and lyricist Tim Gilvin and playwright Alex Kanefsky, with Kanefsky explaining: "I'd always been fascinated by the story of Battle of Cable Street. My family have roots in the East End, and when I came to live here, following in their footsteps, I found myself cycling down Cable Street itself.
"I stopped to look at the huge mural showing the Battle, and it took my breath away. The story still has a semi-mythical hold on popular radical and Jewish history, and I became more and more aware of the parallels with today. A financial depression, political upheaval, and powerful figures scapegoating minorities for all of society's ills. The battle of 1936 feels a deeply resonant, modern story of hope in dark times."
The Battle of Cable Street occurred when Sir Oswald Mosley announces his intention to lead thousands of fascist Blackshirt supporters into the heart of the Jewish community there. Despite the government's failure to ban the march and the deployment of 7,000 Metropolitan police officers to protect the British Union of Fascists, the local workers, members of various communities, trade unionists, political activists, women, and children united to defend their diverse community, declaring "They Shall Not Pass."
Gilvin added: "I heard about this part of London's history in 2016: a time when the politics of division and fear were once again in full swing. The Battle of Cable Street feels like an urgent story to tell today – as history risks repeating itself. Our musical, Cable Street, tells a story of the diverse communities of London coming together to face down the very forces that sought to divide them."
The creative team behind Cable Street includes director Adam Lenson, musical director Tamara Saringer, choreographer Melody Sinclair, costume designer Lu Herbert, lighting designer Sam Waddington, casting director Sarah Leung, set designer Yoav Segal, and producers Dylan Schlosberg's 10 to 4 Productions and Neil Marcus.