British theatre must address our colonial past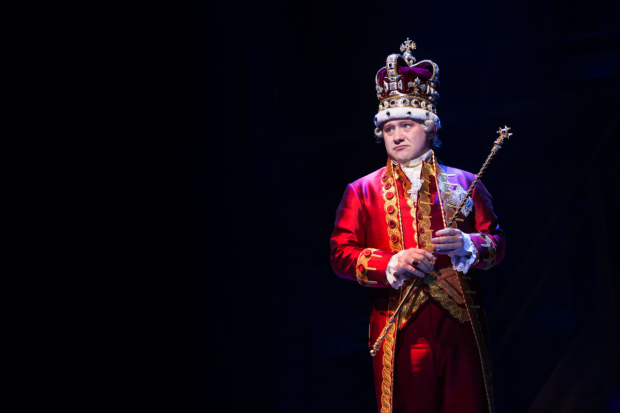 An American friend, a fellow critic, recently revisited Hamilton in London. "The Brits," she tweeted afterwards, "Cheer for King George and the American win at Yorktown". It's a telling detail – and not just for its strangely split allegiances. King George lands differently here. He becomes a figure of fun – not a villain, but a jester.
On Broadway, Jonathan Groff played him with a poker face – unflinching, detached, vindictive. The Brit who inherited his heavy crown , Michael Jibson, makes him a baby-faced buffoon. He's a royal whim; an ermine-clad temper tantrum. Instead of Groff's parlous inscrutability, Jibson's George wears his heart on his face. His eyes bulge, his lips pucker. He's gooey, then wrathful, then all kinds of petulant. In short: pathetic. Ludicrously so.
It speaks volumes about how we Brits see ourselves. Even now, almost 250 years on, we're reluctant to address the realities of empire. Theatre can and should redress that.
The other week, in Berlin, I saw a performance lecture by Singaporean artist Ho Rui An. Solar: A Meltdown starts with a sweat: the soaked shirt of a plastic mannequin in Amsterdam's Tropenmuseum. Its uncanniness isn't the only reason it's eye-catching. Here is the figure of a western colonial presence, the anthropologist Charles Le Roux, struggling under the sun's glare – as well he would.
It feels rare to see our sense of colonialism so scrutinised
But Ho reminds us how rare that is; how often colonialists are shown as cool, collected and, yes, civilised figures. In photographs, paintings and films, they gleam in clean colonial whites that reflect the sun's rays. They become brilliant – dazzling bodies that stand out against and rise above their surroundings. Sweeping through cultural representations of colonial history, from The King and I to It Ain't Half Hot Mum, Ho argues that the way we portray colonial rule tends to perpetuate it in subtler ways.
So does the way we ignore it. Something struck me about Solar: how rare it felt to see our sense of colonialism so scrutinized. For me, only Selina Thompson's wrenching solo Salt has come close: her retracing the triangular slave trade route cost her dear, and laid bare the burden she carries with her today as a black woman living in a society built on racist foundations.
Otherwise, in a decade of near-nightly theatregoing, I can count the shows really examining colonialism on two hands. Some have been stunning: Yaël Farber's haunting revival of Lorraine Hansberry's Les Blancs and Rufus Norris' white-faced Death and the King's Horseman both used the vast Olivier stage to its full. Danai Gurira's The Convert argued that past sins can't be simply absolved at the Gate – and it'll get a wider audience in a new Young Vic staging this year. South African students tore down more than just statues in The Fall, a Royal Court import from the Edinburgh Fringe. Each of them challenged my preconceptions, but they're few and far between.
Empire – ours and others' – is the root cause of so many global conflicts today
They have predecessors, of course. Colonialism lurks in the background of Our Country's Good, as an Aborigine man observes new arrivals from afar, and in the foreground of Caryl Churchill's Cloud Nine, albeit as a prism through which to see extant sexual repression. It's in the lining of John Osborne's The Entertainer: Archie Rice stands for an ailing old England still laughing as the Suez Crisis unfolds. Other plays were more direct. Noël Coward set several plays in the fictional colony of Samolo. Willis Hall's The Long and the Short and the Tall showed a mutiny in Malaysia, the devised Eleven Dead at Hola Camp satirised British atrocities covered up in Kenya, Charles Wood's Monologues at Front of Burning Cities looked, damningly, at the siege of Lucknow in India. Still, not many.
It's not true to say colonisation isn't on the curriculum – academics have proved its presence in schools. It is true to say, however, that it's hardly pressed home. Some history teachers dispatch the subject in a single sitting, others dwell on it for a few weeks. By contrast, we return to the world wars on repeat – plucky Britain saves the world. We teach the Roman invasion as a force for good (Howard Brenton's infamous The Romans In Britain overturns that) and Elizabethan explorers as intrepid and benign; curious souls who lay capes over puddles.
The stage is the place to redress our wilful ignorance
Yet empire – ours and others' – is the root cause of so many global conflicts today. You could call it our collective original sin – just as slavery still defines American society. But where American stages pick at the legacy of slavery, British theatre largely leaves our empire untouched. To see the alternative, look at Swiss director Milo Rau; a maker who always underscores history. In Five Easy Pieces, he offset Belgium's outrage at a serial killer against the country's acts overseas. The Congo Tribunal couched a continual civil war in the carve up of a continent a century before. His theatre opens the aperture to admit our complicity.
Being a public space, vital to our national dialogue, the stage is the place to redress our willful ignorance. It can and should seek to re-examine and re-educate. British theatre's always looked at the state of the nation, but it rarely digs into the nature of that state. Too often, it sticks to the present tense and takes an insular view. While plenty of plays look at immigration and contemporary imperialism – witness Iraq – few reach back to root causes. At a moment when the Empire's being invoked once again, when our Commonwealth connections are held up as our hope beyond Brexit, when the extant notion of a world-beating Great Britain is still doing damage to our society, that project seems more necessary than ever.