Brief Encounter with… WhatsOnStage Award nominee Scarlett Strallen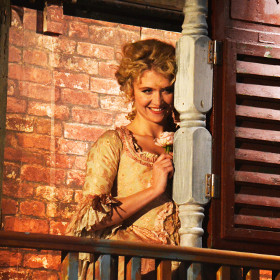 Could you give us an overview of Candide?
It's based on a story by Voltaire that he wrote in the 18th Century, just before the French Revolution, during the age of enlightenment when everything was being questioned.
The central character of Candide is meant to be optimistic, full of wonder and hope; in fact all of the characters are when we first meet them. Then you watch him discover how sad life can be. He eventually discovers that what you have to do is work hard, get on with life and try to be as true and simple as possible, which leads to the fabulous song "Make Our Garden Grow".
You play Cunegonde, Candide's lover – how would you summarise her?
She's rather a minx. I definitely look at her as a victim of circumstance but she's also the master of her own downfall as well: she is absolutely blinded by the bright lights and the sparkly, twinkly things of life, which prove to be her downfall. You watch her descend and descend until she is a shadow of her former self, having lost everything. It's wonderful to play.
Can you relate to her?
Of course. We've all, at various points, been blinded by the twinkly lights and it's not until we realise it's all just smoke and mirrors you realise what's important; getting down to authenticity and working hard.
What's the Menier Chocolate Factory like to perform in?
I think it's lending itself perfectly to the piece because it's so intimate that we're completely reliant on the audience's imagination, our imaginations, whatever we've got to work with. You have to be very creative, using a lot of theatrical license with big epic battle scenes and huge vistas and things. They're explained but we have to just imagine them and hope that the audience come with us!
You've reunited with Adam Cooper. How are you finding him as a choreographer, having starred with him in Singin' in the Rain?
It's great; he's a brilliant creative, a wonderful choreographer and I've never worked with him in this situation. It's amazing to watch how he can just suddenly put on a different hat! But the entire creative team are incredible. The designer Paul Farnsworth has done the most wonderful job with costumes and director Matthew White is so encouraging and kind. It's the complete antithesis to A Chorus Line, not that that was an unenjoyable experience but that's all about preserving and being so incredibly true to what was always set and what was always shown, and this is complete creative freedom and finding new things.
You've got a truly stellar company of co-stars as well, including Fra Fee
He's definitely a star rising, such an extraordinary talent and so lovely to work with. I'm very lucky. David Thaxton and I worked with on Passion at the Donmar. We were talking about it on Saturday being such a similar situation to the first night of Passion – nothing prepares you for the closeness of the audience and how much you feel them and hear what they're thinking, and trying to block it out and stay focused.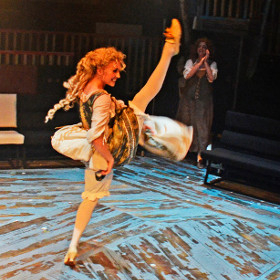 It must be intense
Totally, intense is the word, and because of that I think it's brilliant Matthew [director] decided to incorporate the audience. It's a very interactive experience, they become part of the action as well. That becomes very liberating when you're amongst them, because there's no escape, they have to be in the story too.
How do you feel about being nominated for a WhatsOnStage Award this year?
I'm extremely honoured and proud to be nominated. Being in A Chorus Line was unlike anything I've ever experienced. And the overwhelming sense of love and understanding from the audience on those opening and closing nights was astonishing.
How important is it to you that these Awards are voted for by the public vs a small judging panel?
It's a wonderful feeling that your performance may have touched someone enough to take the time to vote for you themselves. I'm very humbled by that thought.
You are one of four increasingly successful siblings. What's the Strallen secret?
Oh gosh! I find it utterly fascinating that we're talked about in that way. It's just what we do. I didn't know what I wanted to do when I was younger until I walked into the theatre where my parents were working and just completely fell in love with it, and couldn't see any other career option but to play dress up and perform. I think my sisters did the same; when I was working when I was younger they would come to the dressing room and visit me.
It's lucky that we all seem to work because it's a very, very difficult industry and we certainly don't take it for granted. We support each other. That's it really. It's fascinating to me that our surname has become a sort of brand or commodity!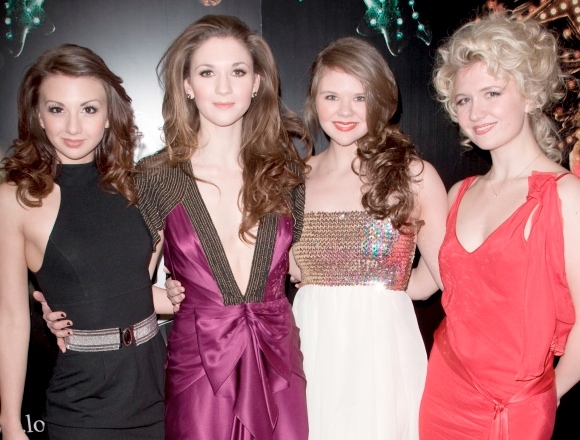 Your sister Zizi was at the Chocolate Factory last year in Merrily We Roll Along – did she give you any advice?
She warned me all about it! She just told me to wrap up warm as it does get cold but we're very lucky with this show that the way that they've configured the stage it's all in the round so we don't actually have to go outside to enter from stage left!
She just described the Chocolate Factory as a family and I know it sounds like a cliché but it really, really is. I think because we're in such close quarters and it is so intimate, we just have to get on with it. There's no room for any egos or anything.
If you could have a wish-list of roles, what would you have?
I never know how to answer this question, people ask me a lot! Genuinely I'm just pleased if anyone wants to offer me a job. I know it sounds pathetic but I just want to keep working. I don't mind what it is. As long as it's challenging and it's different from the thing I've done before. I've been so lucky, with something like Cassie and then going to Cunegonde, it's just so different.
Would you do classical acting?
Absolutely I would love to do more Shakespeare, and I would love to do a new gritty contemporary play somewhere sexy like the Royal Court! But that's a major wishlist, and i'm happy with what i'm given!
Finally, now that you've been nominated for the WhatsOnStage Awards, any message you'd like to pass on to theatregoers who may vote for you?
Just please continue your passion and love for the theatre and thank you for coming to see the shows I've been a part of.
Candide continues at the Menier Chocolate Factory until 22 February 2014
CLICK HERE TO VOTE NOW IN THE WHATSONSTAGE AWARDS!
---
THANKS TO ALL OUR SPONSORS: