Boeing Boeing (Crucible Theatre)
Marc Camoletti's classic French farce, Boeing – Boeing, has jetted into Sheffield this May, bringing with it the full baggage allowance of laughter, awkwardness and misunderstanding that we expect from such a comedy.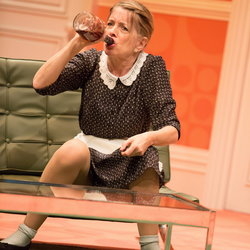 Directed by Jonathan Humphreys, this new adaptation is fresh, lively and captivating. As we follow the confusing schedule of protagonist Bernard and his three air-hostess fiancées: the German, the Italian and the American, his intricate timetable of lovers is thrown into disarray as a new, faster plane means his lovers will return to his home in Paris quicker, more frequently and overlapping.
Bernard's long-suffering housekeeper, Bertha, is played by Julia Deakin. Fans of her role as Marsha in the TV show Spaced will recognise her trademark sarcastic grumpy moaning and miserable yet hilarious one-liners. She is a vital ally in Bernard's plans as she ensures that no trace of the previous fiancée is left in the apartment, and prepares food suitable for each nationality, such as frankfurters and sauerkraut for the German and pancakes for the American. The exaggerated caricatures of each nationality are clichéd yet inoffensive.
His Parisian apartment is styled in 1960's retro orange, and with the striking uniforms in contrasting bold colours for the three hostesses, the production transports us to its time with the aid of quirky, upbeat music to click your fingers to.
The rhythmic delivery of the fast-paced dialogue is delivered effortlessly. The character of Robert, Bernard's long lost unlucky-in-love friend, provides the on-going banter with Bernard. He is seemingly bemused yet intrigued by Bernard's lothario lifestyle initially, yet becomes fearless and inhibition-free as the plot thickens and all three air hostesses are in the apartment, narrowly missing each other between the 5 doors on the back wall of the set.
The time flew in both halves of Boeing Boeing and I was transported to a different world without leaving Sheffield. For laugh-out-loud, ridiculous situation comedy, travel no further.
Boeing Boeing continues at the Crucible Theatre Sheffield until Saturday 7 June.