Back to the Future musical set for West End in 2015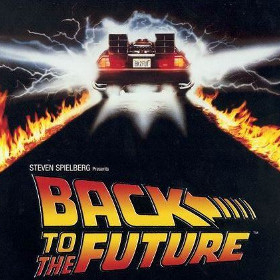 Another day, another popular film is set to hit the West End stage. This time it's the turn of Back to the Future, the iconic 80s time-travel caper starring Michael J Fox, which is reportedly set for a 2015 premiere.
The film's writer and director Robert Zemeckis is on board, as is co-writer Bob Gale, who co-author the book. Jamie Lloyd, director of The Commitments and Urinetown, among others, is set to helm the production.
Grammy-winning songwriter Glen Ballard is teaming with film composer Alan Silvestri, who worked with Zemeckis on Forrest Gump and Cast Away, to write the original music and lyrics.
The stage version will feature the songs "The Power of Love", "Johnny B Goode", "Earth Angel", and "Mr Sandman", which all appeared in the film.
Jamie Lloyd said: "The production will include illusions, skateboarding and many other surprises that will capture the spirit of the film but freshly interpret it for a new audience. Steven Spielberg once described the film as a musical and whilst we are incorporating some of the original, exhilarating score and songs, Alan Silvestri and Glen Ballard's witty, infectious and heartfelt new songs are the perfect springboard to tell this uplifting story anew."
Also in the creative team are set designer Soutra Gilmour, lighting designer Jon Clark, illusionist Paul Kieve and 'skateboard consultant' Andrew Willis. Willis built a skate park in East London using reclaimed materials left over from the Olympic Games.
Zemeckis directed all three Back to the Future films. The first premiered in 1985, with the sequels following in 1989 and 1990. The film took $360.6 million at the box office worldwide and the total box office for all three films in the Back to the Future franchise was $936.6 million (over $1.8 billion in today's money).
Bob Gale said: "The Back to the Future musical is a project that Bob Zemeckis and I have been exploring for almost ten years. We're thrilled to be at last in partnership with a creative and producing team that will create a show that is true to the spirit of the film without being a slavish remake… We can't think of a better way to celebrate the 30th anniversary of the film."
The production will be in good company in the West End, where recent and forthcoming film adaptations include Dirty Dancing, The Bodyguard, Shakespeare in Love, Fatal Attraction, Groundhog Day, Made in Dagenham, Kinky Boots and Dirty Rotten Scoundrels.