Assassins review – the murderous musical never felt more timely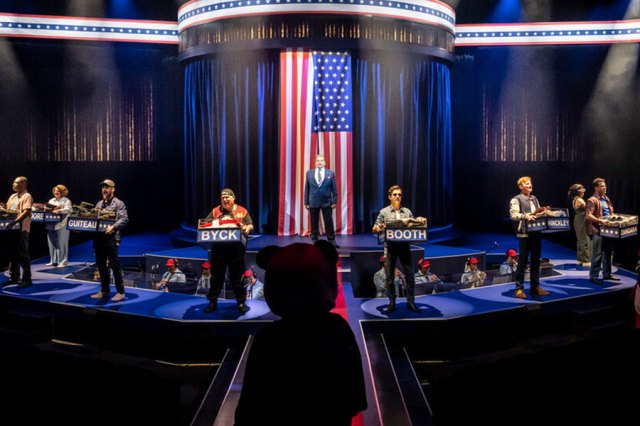 Peter Forbes' blue suited Proprietor, all slick-backed hair and fake tan, sinisterly lurks in the shadows of a brilliantly recreated Oval Office at the back of the Chichester stage. On the same day as Donald Trump is once more in the headlines and is indicted for improprieties, Forbes' Trumpian figure cynically demonstrates all that is dangerous when the wrong person is in charge. The media circus that subsequently swirls and adds to the discourse is brought to frenzied life in Polly Findlay's dazzling new production of Sondheim and Weidman's intelligent exploration of (a few) of the people that have tried to kill US Presidents – some more successfully than others.
Chichester's Festival Theatre has been transformed into a vast 21st century US election rally, all star-spangled banners and multi-level platforms. The media-obsessed world of politics today is ever present on video designer Akhila Krishnan's myriad of digital screens that air the grotesquely devouring 24-hour news cycle that regurgitates and provokes. It is repulsive and frenetic just as much as it is unmissable and all-consuming. American rock anthems are pumped loudly into the auditorium as lion-headed mascots whip up the crowd pre-show. You can even enjoy an all-American hot-dog and munch through a bucket of popcorn to really get yourself in the mood.
Potential assassins are brought to the stage one by one in game-show fashion as they lithely start proceedings with Forbes magnificently holding court as both host and instigator. The usual Balladeer role instead becomes a trio of Newscasters that urgently present a Wheel of Fortune-esque routine of which President is up first for assassination. It's a monstrously unsympathetic approach that lays bare the reasons for each attempt with unedifying clarity. The club of assassins hang out together in the Oval Office like a waiting room, each impatiently waiting their turn to tell their story.
Danny Mac superbly leads the dysfunctional gaggle with an easy charm as John Wilkes Booth, killer of Abe Lincoln and supposedly motivated by a political urge to improve his country. Other stand outs are Amy Booth-Steel's dangerously ditzy Sara Jane Moore, Harry Hepple's camp Charles Guiteau and Sam Oladeinde's raw and sincere Leon Czolgosz. Nick Holder provides an emotionally show-stopping monologue as Samuel Byck, disillusioned and broken he pleads "we need to believe and trust that someone is looking out for us".
Whilst Sondheim's music and lyrics are consistently great, Weidman's book has moments that lose momentum and Findlay doesn't always manage to power through. One or two large and broadly uninteresting sections of dialogue stop the action in its tracks, all the more noticeable in a production that is as in-your-face as this one.
Lizzie Clachan has clearly had an absolute ball designing this and has been blessed with a building that lends itself to the concept magnificently. Half of Jo Cichonska's robust sounding orchestra are bizarrely, partly sunken into the stage where they are distractingly visible, particularly during the moments where they look utterly bored with events surrounding them. The Oval Office that sits atop of proceedings is immaculately evoked though with a glorious level of destruction reminiscent of the Capitol riots of 2020 also bringing the production bang up to date.
Findlay is unflinching in her liberal display of guns throughout and one can't help but consider the frustrating absurdity of America's gun laws as these weapons are waved around with gay abandon. It all adds up to a brilliantly contemporised version of the Sondheim classic, and whether the various assassins are motivated by social injustice or a need for notoriety, Findlay takes the time to examine each in turn and never shies away from the subsequent results with gallows and electric chairs all on chilling display.
The brilliance of Sondheim's merry cynicism shines as brightly as the studio lights in this ironically dark, dazzling and dangerously current exploration of politics, the media and humanity. Chichester has a hit on its hands!