Antigone's Roy Williams: 'How far are we prepared to go to do what is right?'
By the time Pilot Theatre's production of Antigone reaches the company's home at York Theatre Royal on 21 October, it will be a month into a tour that continues until the end of November. When I spoke to playwright Roy Williams recently, the production had already completed a successful two-week run at co-producer Derby Theatre.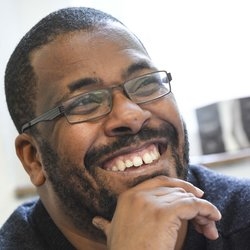 The world Williams' characters inhabit is very different from the Theban court of Sophocles' play. This is Antigone set in an Ancient Greece that looks and sounds like today's street culture: Creon, the king who stirs up his niece to revolt by his unjust treatment of her dead brother, becomes gang boss Creo, with the heroine herself re-named Tig. As one review has pointed out, the play begins with a violent street confrontation, something foreign to the spirit of ancient Greek tragedy where plenty of blood flowed – but only off-stage.
However, interestingly enough, Williams insists on calling his play an adaptation. Other playwrights (Jean Anouilh springs to mind) have written their own plays on the subject and Roy Williams has an excellent track record of original drama, but here he wanted to "give myself some limitations which I felt might help me write a better play."
He admits to taking some liberties. Having always found it strange that Antigone's relationship with her lover Haemon is so important, yet Sophocles never gives them a scene together, Williams has done something about that and in his version Tig has a crucial scene with Eamonn, as he is re-named. Williams hints that he may have lightened the tone in the occasional scene, but the main story-line remains as sombre as in Sophocles; most importantly, the ending is unchanged.
The impetus for the play came from Williams' desire to do an adaptation of a Greek play and, when he put the idea to Pilot Theatre's artistic director Marcus Romer, he, too, was equally excited by the project. The story of Antigone was an obvious one to choose. Williams agrees that, of all the famous Greek tragedies, this speaks most clearly to contemporary audiences. No doubt a young feisty, but vulnerable, heroine and an all too human story appeal to 21st century sensibilities, but Williams also points to eternal truths in Sophocles' play that are still relevant – power corrupts, for instance – and the question the play poses, "How far are we prepared to go to do what is right?"
Roy Williams doesn't see transforming Creon into a gang boss as taking the politics out of Antigone. In the first place family love and generational defiance are themes of the original just as much as political power is. In the second place he is not short of similarities between the worlds of the regal and criminal tyrants. The hierarchy within a gang, down to members referring to themselves as "soldiers", can be as strict as in a court, and Creo has his own territory to rule just as Creon did.
Williams is at pains to point out his hatred of gang culture: his Antigone may be more openly violent than Sophocles', but that doesn't mean he glories in it. In that he is at one with the original with its bleak presentation of political power.
Currently being performed at Northern Stage, Newcastle (until 11 October), Antigone then tours the below venues giving the audiences the chance to see how one of the great human tragedies can be transferred to the all too contemporary world of gang culture and the demotic of the streets.
13 – 14 Oct: Nottingham Lakeside Arts Centre
15 – 18 Oct: Lawrence Batley Theatre, Huddersfield
21 – 25 Oct: York Theatre Royal
4 – 8 Nov: Watford Palace Theatre
11 – 15 Nov: Gulbenkian Theatre, Canterbury
18 – 22 Nov: Theatre Royal Winchester
26 – 29 Nov: Exeter Northcott Theatre
19 Feb – 14 Mar 2015: Theatre Royal, Stratford East