Alice's Adventures Underground (The Vaults)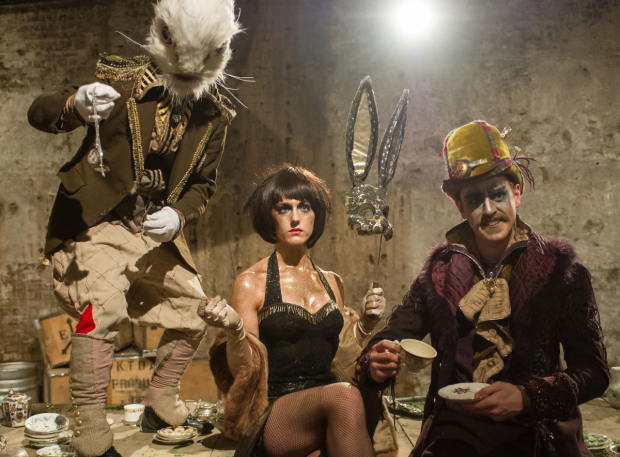 Known for their innovative storytelling fusing physical theatre, puppetry and music, Les Enfants Terribles have made it to London with an immersive take on Lewis Carroll's Alice in Wonderland, in a co-production with Emma Brunjes that has been more than three years in the making.
Celebrating the 150th anniversary of the children's classic (originally published under the show's title, Alice's Adventures Underground), the company have pulled off a remarkable transformation of the Vaults under Waterloo station.
Samuel Wyer's impressive design recreates Wonderland with Punchdrunk-like detail; a total of 33 individual sets have been created for the production. Sadly, you only get to see a selection of these, depending on your initial decision.
We start in Charles Dodgson's (Carroll's real name) study, complete with Alice flitting between mirrors, before heading down the rabbit hole – a lovely zoetrope effect from video designer Nina Dunn – and, making the choice between 'Eat Me' and 'Drink Me', being split into smaller groups to head out on your journey into Wonderland.
What follows is a series of fairly disjointed scenes (arguably how Carroll would have liked them), which differ depending on the suit you're given. Despite the initial freedom in direction, the rest of the production is more promenade than immersive; perhaps more choice in your journey would make it a bit less clunky, with fewer queues and waits along the way.
The nonsensical nature of Carroll's writing translates better into some scenes than others; twins Danielle and Nichole Bird are an excellent aerial Tweedledee and Tweedledum, and the Mad Hatter's tea party is deliciously eccentric, with a great turn from Mark Stevenson as the Dormouse, but Humpty Dumpty and a scene in the palace kitchen's fall a little flat.
Mention must also go to the costumes and puppets, from a frog footman to a Steampunked Chesire Cat, and the impressively melancholic song of the Mock Turtle composed by Alexander Wolfe, set in an eerie waterlogged cave.
Alice herself merely bookends the production, in the study at the start and in the final court scene, where the entire audience is brought together for the Queen of Hearts's judgement. Breaking through the looking glass and heading out into the darkness, you follow her out of the fantasy, taking a piece of Carroll's nonsense world with you.
Alice's Adventures Underground runs at The Vaults, Waterloo, until 30 August 2015