Alexandra Palace Theatre first look and new programme announced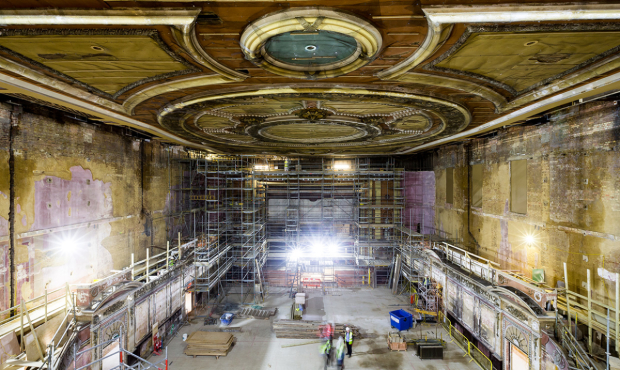 The Alexandra Palace Theatre has announced its plans as it prepares to re-open for regular programming.
After a two-year refurbishment, the historic venue will begin hosting regular shows in its new 1200-seater auditorium, the first time that this has happened in the space in over 80 years.
The initiative got the go-ahead after an £18.8 million National Lottery grant with further funding provided from a number of sources – one of the biggest ever for a heritage project. The construction work has lasted two years, and sees the derelict areas of the venue (around 40 per cent of the seven acre site) transformed back into public spaces. The new renovations will reduce unmaintained areas to 16 per cent.
A special resin is being used to preserve the theatre's walls, to prevent further degradation while honouring the heritage of Alexandra Palace. The Palace was the site of the first BBC broadcasts, and the theatre has, throughout its life, been used as a chapel, a workshop and as a prop store.
You can watch our backstage tour of the venue below.
In its heyday, the theatre was used for music hall, theatre, opera and comedy performances, with the new lineup aiming to emulate this variety of programming. After opening on 1 December with a concert and a gala on 2 December, the theatre's first show will be Birmingham Stage Company and Derby Theatre's production of Horrible Histories – Horrible Christmas, making its London premiere.
Dylan Moran, Gareth Malone, and Gilbert and George will perform across the venue's first month. The BBC's long-running Friday Night Is Music Night, hosted by Ken Bruce, will also broadcast from the Theatre.