Alex Hassell, the RSC's Prince Hal: 'I want to be measured in the great roles'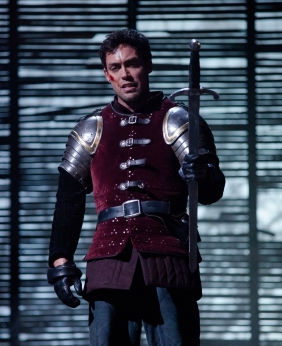 What was your first impression of the Henry IV plays?
I didn't know them until we started talking about this production, and the first time I read them I remember thinking 'they're really good but I've no idea what's going on.' But when I started to get into them I realised they're so full of such wonderful characters and situations. Interestingly, lots of my friends in the industry subsequently told me that these are their favourite Shakespeare plays, so they seem to strike a chord with many people even though they're not in Shakespeare's 'greatest hits'.
They're in some sense a 'prequel' to Henry V
They do provide an interesting prequel to Henry V, though how much Hal is written as one consistent character throughout the cycle is debatable. There's not a large amount of evidence for Henry V being a disreputable youth, so it would seem a large amount of that is invention on Shakespeare's part. But it's certainly exciting to start him off being as far away from a hero as possible, and to trace his journey.
There's something of the student about him
Absolutely. The first play is largely about rebellion, from the Percys rebelling in the north to Hal rebelling against his father. Henry IV deposed his father Richard II, so Hal is suddenly flung into being an heir having not been born as one. It's a difficult mentality to get into, considering that the King was all-powerful in those days; he was monarch, prime minister, warlord and the voice of God, all in one.
And the devil on his shoulder is Falstaff, played by Antony Sher – what's it been like acting opposite him?
It's been wonderful working with Antony; it goes without saying he's an incredibly classy and experienced actor. That can be quite intimidating for a younger actor, but he's always been very gracious, and very open to my playing about with the role. He's never told me that I should do anything, or instructed me, he's just always been responsive. We've had a great time playing together, and with Jasper [Britton, who plays Henry IV]; I hope very much that comes through in the production.
You've had a number of screen roles recently – was that an intentional break from theatre?
It was partly intentional, though I hadn't quite realised how long I'd been away from the stage until I was doing a vocal warm-up before the first preview and realised I'd forgotten what to do! I got an American agent after being in The Caretaker with Jonathan Pryce at the Brooklyn Academy of Music, and filmed a few pilots. I also did a film called Two Down, which is out soon. So that was very exciting but I love to be on stage – these parts are why I became an actor in the first place.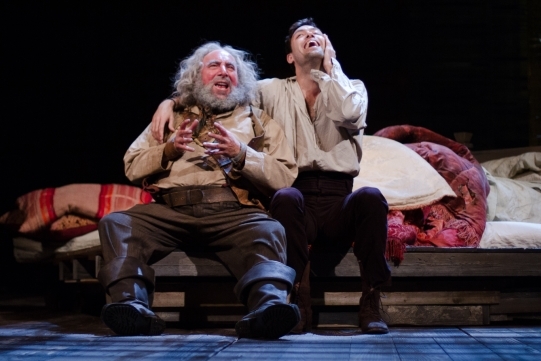 Are you still working with The Factory Theatre Company?
Yes, and it's still going strong. I'm still the artistic director though other members of the company have stepped in to take up the slack while I'm doing this. We're producing Tim Carroll's production of The Odyssey at the moment, which like all our work is very improvisational – the audience choose their own journey through the story, and how that story is told. We just played it at the Bussey building in Peckham and are talking to a couple of venues about taking up a longer residency.
What sparked your interest in theatre initially?
When I was 12 I went to the Cramphorn Theatre in Essex, where I grew up, and saw a musical called The Rock Nativity. I had no concept of being an actor, but I remember very distinctly watching that show and being intoxicated by the idea of a roomful of people watching another group of people. And I felt very strongly that wanted to be in the group being watched rather than those doing the watching! So I auditioned for a local production of Bugsy Malone and got the lead part, which really solidified my feeling that this was the job for me.
Who were your early influences?
A turning point for me was definitely working with [director] Tim Carroll. He's my artistic mentor. I worked with him firstly doing Midsummer Night's Dream with the Orchestra of the Age of Enlightenment, and later at the Globe. There's something about the way he works that really unlocked something in me in terms of playing very spontaneously, and trying to act in the moment. That's what prompted me to want to set up The Factory with Tim Evans, and we were very honoured that Tim agreed to be be an associate artist.
So what's next?
There are a few projects that I'm not yet a liberty to talk about, but I will say I love Shakespeare and would like to be measured in the great roles, against other great actors who've played them. At the same time I'd also like to be the first person to play some great parts, so would love to work at places such as the Royal Court or National. And then of course I wouldn't say no if Martin Scorsese or Paul Thomas Anderson came knocking!
Henry IV Parts I and II continue in rep in the Royal Shakespeare Theatre, Stratford-Upon-Avon until 6 September, before touring to Newcastle, Norwich, Salford, Bradford, Bath, Canterbury and the Barbican Centre, London (29 November 2014-24 January 2015). Part I is broadcast in cinemas tonight, 14 May 2014 – more info here.