Aladdin (Stevenage – panto)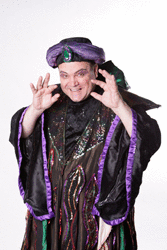 Aladdin is one of the most popular pantomime stories and 2014 sees a fine array of them. At the Gordon Craig Theatre the show opens with a projected sequence in which Shaun Williamson's thoroughly villainous Abanazaar consults an ancient Egyptian oracle to learn how he can obtain wealth and power.
But Micha Richardson's sinuous and strong-voiced (not to say, strong-willed) Genie of the Ring is concerned to thwart his evil schemes. So
we're off to Old Peking to meet our hero-to-be (Hannah Malekzad), the hapless Wishee Washee (Aidan O'Neill) and their mother Widow Twankey.
Paul Laidlow's characterisation falls within the category of what one might term cuddly Dames. Flashing false eyelashes and pinpointing hapless male audience members, this is a Dame who has young and old firmly on her/his side.
The Emperor (Junix Inocian) has had to make most of his staff redundant. He's left with the dim PC Pong (Adam Shorey) to maintain order and his daughter So-Shi (Cristina Hoey) to flog to the highest bidder. Naturally, So-Shi has other ideas for her future.
Aladdin is led by his pretended uncle to the cave where the magic lamp lies hidden. Cue for CG Fraser's marvellous Genie of the Lamp to take over proceedings with incredible flamboyance and panache.
Laser Electronics have provided the spectacular laser show which closes the first half. Even Shelley Claridge's excellent costumes can't really complete with that. But there are some fun sequences in the second part, including variations on the laundry slop scene and the haunted bench interlude.
The principals put over their numbers with style, under James Cleeve's musical direction and Flik Swan's choreography for both the adult and juvenile dancers is very effective.
Aladdin runs at the Gordon Craig Theatre, Stevenage until 25 January.