A Steady Rain (Ustinov Studio, Bath)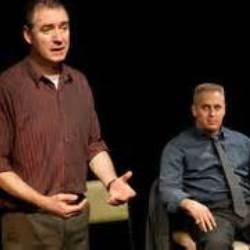 Room on the Broom is the second of three productions of the Ustinov's American Season 2014, and whilst it's an improvement on the slightly underwhelming The Big Meal, it's still not quite hitting the peaks or discovering the plays that the previous seasons have produced.
Keith Huff's play has become a global phenomenon in the past few years with productions all over the world, helped in no small part, by its original starry Broadway cast when Daniel Craig and Hugh Jackman essayed the roles of Denny and Joey. These two Chicago cops lives are changed irrevocably over the course of a couple of dark nights when one error of judgement by them leads to a disturbing and horrific crime (made even more horrific by the program note that clarifies that this isn't just a gothic idea hatched from the playwrights mind but based on a true event).
Huff is probably best known for his work on American TV, most notably Mad Men and House of Cards and these influences can be seen in the writing. It's as focused as much on the relationship between the two men as it is by its propulsive narrative, two men whose friendship has over the years developed into brotherhood. It also strays into a bit of tv cliché in the character of Denny (Vincent Riotta) the cop who treads the well worn path of dipping a toe into the murky world of police corruption.
Its strength; a gripping, driven narrative can also be seen as its flaw. For watching it the nagging suspicion I had was that this was a dry run to turn the production into a film or mini-series and that in this medium it will truly find its feet. The descriptions that run through the scenes of rain beaten streets and visceral gory imagery would look wonderful under the gaze of a Roger Deakins. You can't fault the production, directed by David Grindley on Paul Wills simple but effective set and the performances by Riotta as the corrupt cop and Brian Doherty as the 'good cop' secretly in love with his best friends wife and eventually finding a reason 'to fight' are solid if not spectacular.
One can't help feeling that the theatre isn't the best medium to present this story and though it grips on a first viewing, like much crime fiction once you know where the story goes there would be little to take from a second viewing.
– Kris Hallett